Hario Coffee Mill
Details
https://www.whittard.co.uk/equipment/coffee-equipment/coffee-grinders/hario-coffee-mill-306647.html
12
Additional Information
Description

This ceramic burr hand grinder's ideal for most brew methods, including pour over, filter, cafetière and AeroPress. Perfect for the home barista, ceramic, conical burrs produce more consistent grounds.

Fully adjustable grinder with rubber base to prevent slipping while grinding. To adjust the grind: Unscrew fixing cap, remove handle and nut stopper to reveal the adjustment nut. Turn the adjustment nut clockwise for a finer grind and anti-clockwise for a coarser grind. Replace the nut stopper, handle and the fixing cap. .

Height: 18cm
Width (Including handle): 16cm
Depth: 8.5cm

Care Instructions:
Dishwasher safe.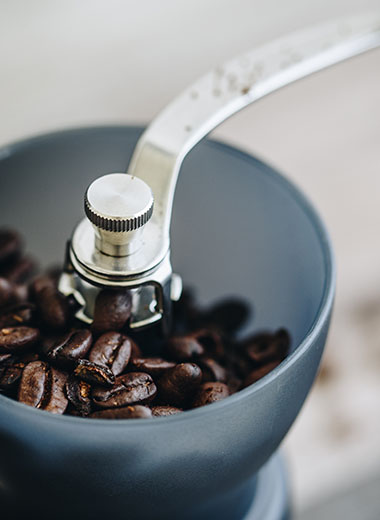 Nose to the Grind
Not sure which grind to use for your coffee maker? As a good rule of thumb, coffee makers using a paper filter are best with a finer grind, while those with a mesh filter benefit from a coarser grind. If you're cold brewing, we recommend grinding as coarsely as possible: this will give you a smooth cold brew without a hint of bitterness.