Severin Coffee Grinder
Details
https://www.whittard.co.uk/equipment/coffee-equipment/coffee-grinders/severin-coffee-grinder-328765.html
0
Additional Information
Description

There's no beating the enticing aroma and nuanced taste of freshly ground coffee – and when you find a high-quality grinder the results can be surprising, bringing out complex and intriguing flavours in your morning cup. That's where the Severin coffee grinder comes in. The Severin grinder's stainless steel burrs are easily adjustable and built to last, giving you clean, flavoursome coffee day after day. The detachable container holds up to 100g ground coffee, and can be filled to your preference: simply adjust the quantity slider at the front, press the start button, and the grinder will automatically stop once the right amount of coffee has been ground. Simple, effective and easy to clean, its ideal if you want to take your home barista skills to the next level.

Not suitable for use with dark roast coffees as the bean's natural oils can clog the grinder's mechanisms.

Height: 23.5cm
Width:14cm
Depth: 17cm

Care Instructions: Not suitable for the dishwasher.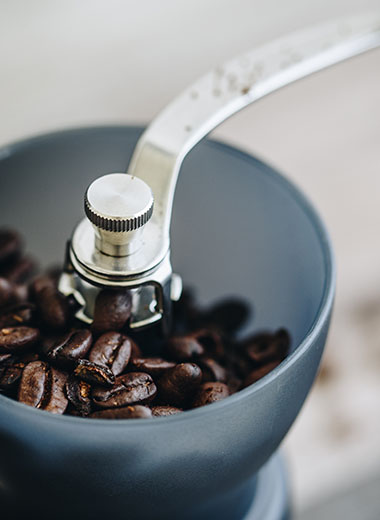 Nose to the Grind
Not sure which grind to use for your coffee maker? As a good rule of thumb, coffee makers using a paper filter are best with a finer grind, while those with a mesh filter benefit from a coarser grind. If you're cold brewing, we recommend grinding as coarsely as possible: this will give you a smooth cold brew without a hint of bitterness.