Barista & Co. Blue Coffee Brew It Stick
Barista & Co. Blue Coffee Brew It Stick
Details
https://www.whittard.co.uk/equipment/coffee-equipment/coffee-makers/barista-co.-blue-coffee-brew-it-stick-342725.html
61
Additional Information
Description

Barista & Co. Blue Coffee Brew It Stick brews coffee in just 4 minutes with no faff, no frills, and no messing about with filter papers.

Simply fill the filter basket with ground coffee, pop it in your favourite mug, and slowly pour hot water through the top filter until your mugs full.

The filter basket is designed to give your grounds the optimum amount of contact with the water; and the handle is made of heat-resistant plastic, so you can easily remove the Brew It Stick when your coffee is brewed. There's even an elegant stand to prevent drips, perfect for making fast, stress-free coffee at your desk.

Recomended Grind: Cafetière
Holds 15g of ground coffee

How to Use:
1. Fill infuser basket with 15 grams of coarsely (cafetière) ground coffee and secure handle.
2. Place infuser into an empty cup.
3. Slowly pour boiling water through the filter.
4. Pour until the desired water level is reached.
5. Stir well and leave for 4 minutes to brew.
6. Stir. Remove from cup. Enjoy!

Dimensions:
Height: 20cm
Weight: 60g

Care instructions:
Dishwasher safe.

Reviews

Barista & Co. Coffee Brew It Stick

This little gentleman has saved me so much time in the mornings. It is very easy to brew an absolutely best quality coffee with it - and it is easy to wash, too! Ground coffee does not slip through the net almost at all. Would recommend to all the coffee lovers who need a quick morning cup to take them through the day!

Barista & Co. Coffee Brew It Stick

Amazing, my shifts are not regular, nights, days and evening and sometimes I finish at 8am and have to be somewhere at 10am but this stick means I can make fresh coffee anywhere with very little washing or baggage. Impossible to carry a cafeteria around. It works and the coffee tastes as good as it smells. Perfect!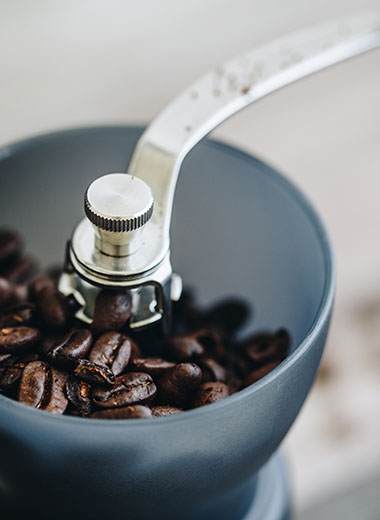 Nose to the Grind
Not sure which grind to use for your coffee maker? As a good rule of thumb, coffee makers using a paper filter are best with a finer grind, while those with a mesh filter benefit from a coarser grind. If you're cold brewing, we recommend grinding as coarsely as possible: this will give you a smooth cold brew without a hint of bitterness.