Japanese Tetsubin Small Grey Cast Iron Teapot
Details
https://www.whittard.co.uk/equipment/tea-equipment/teapots/japanese-tetsubin-small-grey-cast-iron-teapot-326124.html
6
Additional Information
| | |
| --- | --- |
| | Personalise your gift for free with a message at checkout. |
Description

Lead the tea ceremony with these traditional Tetsubin teapots by the Japanese cast iron teapot specialists Kikuchi Hojudo. Available in mottled grey, blue and red, each teapot has been handcrafted by skilled artisans from the Japanese city of Yamagata.

Immediately recognisable by their elaborate relief designs, the traditional Tetsubin cast iron teapot was originally heated over a charcoal fire and formed the centrepiece for the Japanese tea ceremony. Today's Tetsubin teapots are a unique fusion of modern technology and ancient technique: crafted from the traditional Wazuqu cast iron used for centuries in Japanese swords, each pot is lined with baked enamel for efficient heat distribution and includes a removable stainless steel infuser.

Height: 9cm
Width: 13cm
Depth: 13.5cm
Capacity: 350ml

Care Instructions:
Wipe gently with a soft dry cloth, wash only if necessary using luke warm water, do not use abrasive cleaners or steel wool. Dry thoroughly. The colour may change after a while, this is a completely natural process of iron. When not in use for a period of time, store in a dry place.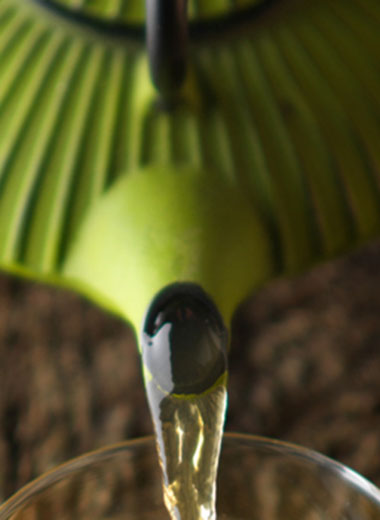 Eyes on the Prize
In the 13th century, the Japanese tea ceremony often involved elaborately staged tea-tasting competitions with prizes for whoever guessed the best quality tea. Why not stage your own blind tasting to test your tea knowledge – can you tell an oolong from a puerh, a white tea from a green?