Pumpkin Spice Oolong Loose Tea
Pumpkin Spice Oolong Loose Tea
Details
https://www.whittard.co.uk/tea/how-do-you-brew/pumpkin-spice-oolong-loose-tea-MSTR330944.html
0
Additional Information
Description

From the crunch of leaves underfoot to the rich smoothness of pumpkin soup, we've distilled the essence of autumn into a tea that's spicy, uplifting and brimming with flavour. We've used a Chinese oolong for the base, blending in cinnamon and ginger for a bit of autumn warmth. Add to that luxurious caramel and a festival of rich pumpkin, and you've got a punchy tea with the surprising lightness of oolong – just the thing for keeping toasty on chilly October evenings.


Ingredients

23% Oolong tea, 20% Cinnamon, 15% Ginger, Roasted Chicory Root, 13% Pumpkin, 5% Cardamom, Caramel Pieces (Sweetened Condensed Skimmed Milk , Sugar, Glucose Syrup, Butterfat (milk), Humectant E420, Emulsifier E471, Flavourings, 3% Cloves

For allergens see ingredients in bold.

Gluten free

Also not suitable for people with other nut and peanut allergies.

| | |
| --- | --- |
| Nutritional Facts | Per 100g |
| Energy (KJ) | 3 |
| (Kcal) | 1 |
| Fat | 0g |
| of which saturates | 0g |
| Carbohydrates | 0g |
| of which sugars | 0g |
| Protein | 0g |
| Salt | 0g |

Reviews

By

Bo

from

Netherlands

on

06/15/2019

Tried this tea in October when it was in the Halloween / fall line. Super nice Chai Tea, I like the caramel pieces. I find it hard to find a Chai Tea I like, this one is so good!

By

Brittany

from

Washington, DC

on

05/01/2019

I bought this tea to try something new for the fall, and I love it! I am usually hesitant to try tea with caramel in it, as I'm scared it'll have an artificial taste to it. This didn't taste artificial at all! I love oolong and all the accompanying spices, and the caramel added a subtle malty sweetness that made a lovely cup of tea. Will keep ordering for sure.

By

Anne-Marie

from

Denmark

on

12/07/2018

This tea is my absolute favourite, and I have a wide selection of teas! I love the chunky appearance where you can see the whole spices. It smells like sweet autumn leaves, caramel, warm spices and hot tea. The colour is like amber, and the taste is just right as a treat on a cold rainy evening. This tea is my reward when I sit down and relax after a busy day, and I sincerely hope Whittard never removes it from their shop.

I love the spiciness of this tea. So great and unusual, in a positive way. All people I´ve shared it with have like it too. I did a big order on this one, because I know I will drink it a lot this autumn and winter. Really looking forward to those cold, dark and rainy evenings now with my pumpkin spice tea.

TEA TYPE
Flavoured Oolong

TASTE PROFILE
Spice – cinnamon, nutmeg, clove, Sweet caramel, vanilla & chocolate, Nutty oolong base

FOOD PAIRING
All butter shortbread – the creamy, buttery taste is perfect with spice
Numerology
NO.
187
The heaviest pumpkin ever grown was a cool 187 stone – that's heavier than a small car.
Brew the Perfect cup

Teaspoons (2 grams)
1

1 cup
200ml water
100 degrees

time
3-5 mins
Origin: China
The origins of tea lie in China: legend has it that it was discovered when a few leaves fell into the mythical emperor Shennong's cup of hot water. Today China produces thousands of different varieties ranging from black and green tea to more unusual teas, like puerh or yellow tea.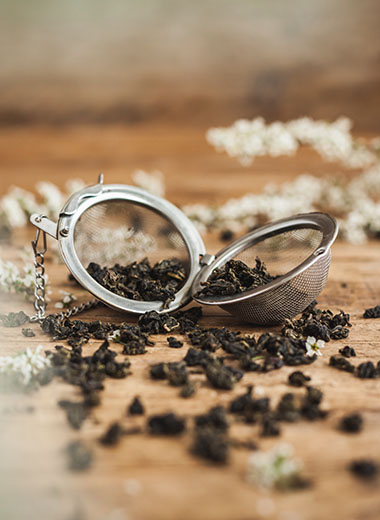 Oolong
Poised between black and green tea, oolongs are semi-oxidised, bringing them part of the way towards a fully oxidised black tea before arresting the process with heat. This allows for a huge range of flavours: so-called "jade oolongs" are closer to green tea, while darker oolongs like Big Red Robe are rich with autumnal, nutty flavours and a roasted aroma.