Rocky Road Flavour Hot Chocolate
Rocky Road Flavour Hot Chocolate
Details
https://www.whittard.co.uk/hot-chocolate/discover-hot-chocolate/all-hot-chocolate/rocky-road-flavour-hot-chocolate-304261.html
194
Additional Information
Description

The name Rocky Road harks back to the gold fields of Australia, where prospectors crunched through chocolate, biscuit and marshmallows as they sieved for their fortune. Gold rush soon became sugar rush as the recipe went global – it's since become a pure slice of Americana, appearing as an ice cream, cupcakes and... pizza. We'll stick to our famous hot chocolate, thanks.

This Whittard all-time favourite combines classic flavours of marshmallow and milk chocolate with those of toffee, cherry, raisins and sultanas. A British twist which takes the road less travelled...

Weight: 350g

Ingredients

Sugar, Cocoa (38%), Dextrose, Flavouring, Salt. Contains Cocoa solids 38% minimum.

Suitable for vegetarians and vegans.
Blended and packed in the UK.
Contents may settle in transit.
Store in a cool dry place.

| | | |
| --- | --- | --- |
| Nutritional Facts | Per 100g | Per 20g as sold |
| Energy (kJ) | 1658 | 332 |
| (Kcal) | 394 | 79 |
| Fat | 8g | 2g |
| of which saturates | 5g | 1g |
| Carbohydrates | 66g | 13g |
| of which sugars | 59g | 12g |
| Protein | 8g | 2g |
| Salt | 0.5g | 0.1g |

Reviews

By

louisj92

from

Bristol UK

on

07/01/2019

We have quite a range of the Whitards hot chocolates, but this is the flavour we always keep in. It is sweet without being sickly and I always think best drunk on its own so you can pick up the subtle hints of berries and marshmallow, which definitely come through.

By

Emily

from

Wales

on

03/22/2019

I think this has to be my favourite hot chocolate flavour that Whittard has to offer. Rich chocolaty flavour with slightly biscuity and berry undertones. Simply decadent and delicious!

Rocky Road Flavour Hot Chocolate

Rocky Road is one of our family favourites and goes down a treat in the winter weather...It also goes amazingly well with a devils food cake mixture, the flavour is so decadent and gives the cake a much more soft and full chocolate flavour against the heavy chocolate filling....we most definitely will be using it for baking again :)

Rocky Road Flavour Hot Chocolate

Purchased for our Son who tells me its delicious. I may even try a cup myself.

Rocky Road Flavour Hot Chocolate

We were so disappointed with this product. We couldn't drink it. It is unbearably sweet and has a truly unpleasant artificial flavour which leaves an aftertaste. Horrible. Thank goodness I didn't buy the six pack of different flavours.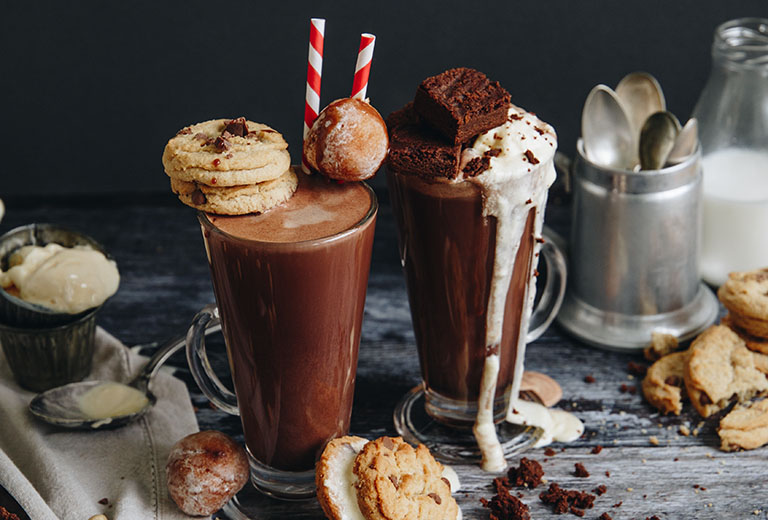 Recipe: Rocky Road Biscuits
Ingredients
140g plain flour
50g self-raising flour 40g Whittard Rocky Road hot chocolate powder
60g granulated sugar
80g finely chopped glacé cherries
62g unsalted butter cut into cubes, softened
62g golden syrup
Half a large egg, lightly beaten
Melted chocolate or royal icing to decorate
Method
Preheat the oven to 170°C (150-160°C fan).
Sift the flours and Rocky Road hot chocolate powder into a large bowl.
Stir in the sugar, then add the cherries and mix until fully coated.
Rub the butter lightly into the dry mixture with your fingertips until it resembles fine breadcrumbs.
Make a well in the centre of the mixture and add the egg and golden syrup, stirring to combine. Once the mixture starts to come together, use your hand to knead the mixture into a soft dough.
Roll out the dough between two sheets of parchment to a thickness of about 5mm. Chill for at least 30 minutes.
Once the dough is firm, cut it into heart shapes. Carefully lift the hearts from the parchment – you may need to use a palette knife – and place on a lined baking tray. Using a sharp knife, cut a small rectangle from the pointed end of each heart: this will let you slot the biscuit onto the rim of your mug or glass.
Bake for 12-15 minutes until just beginning to darken.
Let the biscuits harden slightly on the baking tray for a few minutes, then transfer to a wire rack. When the biscuits are cool, decorate them to your heart's content. (See what we did there?)