Limited Edition Rhubarb & Custard Flavour White Hot Chocolate
Details
https://www.whittard.co.uk/hot-chocolate/limited-edition-rhubarb-custard-flavour-white-hot-chocolate-345728.html
628
Additional Information
Take a trip to the halcyon days of vintage sweet shops with our Rhubard & Custard hot chocolate, reminiscent of the childhood confectionery favourite.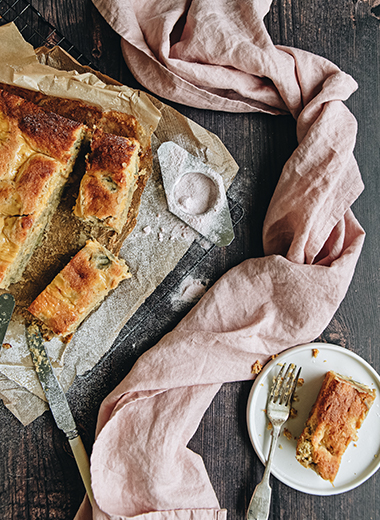 Recipe: Rhubarb and Custard Tray Bake
Our Digital Trading and Optimisation Executive Amelia put on her pinny and got creative with this fabulously pink powder...
INGREDIENTS
3 Eggs
80g Rhubarb & Custard hot chocolate powder
500g ready-made or homemade custard
400g tinned or fresh rhubarb, cut into 2cm lengths
175g self-raising flour
225g caster sugar
100g ground almonds
250g butter, softened
Extra sugar for sprinkling
METHOD
Skip this step if using tinned rhubarb. For fresh rhubarb, pat it dry, place on a baking sheet lined with baking paper and sprinkle with 25g of caster sugar. Bake in the oven at 220°C for 40-45 minutes until it starts to caramelise. Leave to cool.
Line a 28x22cm baking tin with baking paper and reduce the oven to 180°C
In a bowl, cream the butter, remaining caster sugar, flour, hot chocolate powder, ground almonds, 100g custard and the eggs until fluffy – it should be a lovely pink colour.
Stir through the rhubarb
Pour the mixture into the baking tin.
With a spoon, make some wells in the mixture and pour the rest of the custard into them.
Bake for 45 minutes or until the custard is set on top and the cake is golden and firm to touch.
Sprinkle with a little sugar and tuck in!