Mulled Wine Flavour Instant Tea
Mulled Wine Flavour Instant Tea
Details
https://www.whittard.co.uk/instant-tea/explore-instant-tea/instant-tea-flavours/mulled-wine-flavour-instant-tea-324210.html
262
Additional Information
Description

We wanted a brew we could drink all year long, the thinking behind this instant tea's deep fruity flavours and a sweet suggestion of spice. We'd even recommend trying it iced as a summer fruit punch.

Weight: 450g

Ingredients

Sugar, Acidity Regulator E330 (Citric Acid), Flavouring, Black Tea Extract (1%), Colour E162 (Beetroot Red)

Suitable for vegetarians and vegans.

Reviews

Mulled Wine Flavour Instant Tea

I prefer this tea hot, it's really great on a cold day. Especially in winter during Christmas time. But I happily enjoyed this way past Christmas, perfectly sweet for my sweet tooth

Mulled Wine Flavour Instant Tea

im being serious if im dying and on life support just pump this into me and i will be healthier than i have ever been in my life it is the best think ive had in my life and its about to run out and im lit crying i need buckets of this every hour

Mulled Wine Flavour Instant Tea

Ordered this just in time for this current cold snap of weather. I'm so glad that I've discovered this drink it's the fruitier that beverage ever you can really tastes the red berries but it's not too spiced, at first I thought I'd bought another tub of the elderflower and black currant instant tea, which is another favourite of mine they taste quite similar but the mulled wine flavour is very subtle and natural without over powering the fruit flavours which feels like ripe berries bursting in your mouth. I've even tried it cold and it's very refreshing. A definite winner and not just at Christmas.

Mulled Wine Flavour Instant Tea

Nice drink but a bit too sweet for my taste. Maybe I'll have less of the tea to weaken it a bit next time

Mulled Wine Flavour Instant Tea

Honestly I bought this because it had amazing reviews so I reckon I must have received a bad batch. It tastes like mild wine mixed with dust. I reckon it has gone bad which is a shame because I opened it within a week of receiving it. The other instant teas I've bought in the past have been great but this one was disgusting. I can't drink it.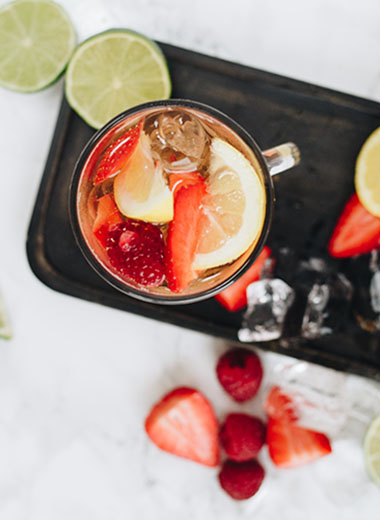 Instant Tea = Instant Bliss
Lusciously sweet and fruity, our instant teas are delicious served hot on a chilly day. But did you also know that you can make them with cold water? Try it when the sun's out – you can even load your instant tea with ice and fruit for a decadent, summer-sweet concoction.