Whittard Silver 3-Cup Cafetière
Whittard Silver 3-Cup Cafetière
Details
https://www.whittard.co.uk/equipment/coffee-equipment/cafetieres/whittard-silver-3-cup-cafetiere-331298.html
19
Additional Information
Description

Going solo? This 3-cup cafetière is just the thing for a workday wake-up. Gracefully designed in stainless steel with a fine metal filter, it gives you a smoother coffee while retaining the grinds natural oils. Perfect for adding a bit of chic to your morning routine theres even a scoop included.

Height: 17cm
Width(including handle): 13cm
Depth: 7cm
Capacity: 350ml
Weight: 300g

Care Instructions:
The glass is dishwasher safe. Wash in warm, soapy water and wipe the frame with a soft, damp cloth. Do not use abrasives or polish.

Reviews

Whittard Silver 3-Cup Cafeti're

Makes a great MUG of coffee. It is also lightweight and pours well. Looks good on my new compact stainless steel microwave in my kitchen.

Whittard Silver 3-Cup Cafeti're

This cafetiere produces a very good cup of coffee however the description of it being of 3 cup volume is misleading. I am getting one mug out of it, I am ware that cups are smaller but I feel that you are comparing it to 3 very small coffee cups when you describe the amount it hold.
.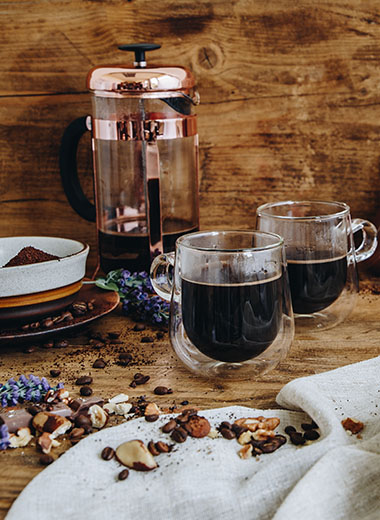 Très Français, N'est-Pas?
In spite of its name, the cafetière – or "French press" – was invented by an Italian man in 1929. Today it's one of the most recognisable and popular ways of making coffee; we recommend using a coarser grind for a complex, full-bodied brew.
Add one scoop of coarsely ground coffee per person to the cafetière. Boil the kettle, wait for a minute or two, and then pour just enough water onto the grounds to cover them. Wait for 30 seconds.
Top up with the desired amount of water, put the lid on, and leave the plunger up. Brew for around 4 minutes.
Slowly plunge, then pour and enjoy!