Lavender Yerba Mate Loose Tea
Lavender Yerba Mate Loose Tea
Details
https://www.whittard.co.uk/tea/how-do-you-brew/loose-tea/lavender-yerba-mate-loose-tea-MSTR314740.html
0
Additional Information
Description

Ah, the joys of a stroll in the garden. This herbal blend is a real treat for anyone with green fingers, and all those looking for a tea a little out of the ordinary. We've blended vibrant yerba mate with fragrant lavender, sweet lemon verbena, and even an unusual addition of bamboo leaves. Yes, it's experimental. But it works.

Ingredients

58% Green Mate, 15% Verbena, 10% Lavender, Boldo Leaves, 7% Bamboo Leaves, Flavouring

Suitable for vegetarians and vegans.

Gluten free

Reviews

This is by far my favourite tea. The combination apple with elderflower is perfect in the afternoon.

TEA TYPE
Herbal Infusion

TASTE PROFILE
A bouquet of fragrant herbs, savoury yet sweet

FOOD PAIRING
Enjoy alone to best appreciate it's savoury-sweet flavour
Numerology
NO.
28
Soothing lavender oil has long been a favourite with aromatherapists. One of the 20th century's most famous aromatherapists was the French chemist René-Maurice Gattefossé, who is credited with coining the term in 1928 – we've numbered this tea 28, to mark the start of aromatherapy as we know it today.
Brew the Perfect cup

Teaspoons (2 grams)
2

1 cup
200ml water
100 degrees

time
3-5 mins
Origin: South America
The herbal yerba mate plant is native to South America, where it was first brewed and served as a stimulant by indigenous tribes. You'll find it's particularly popular in the central and southern parts of the continent, where it's a social drink served as a stimulant and sipped from gourds.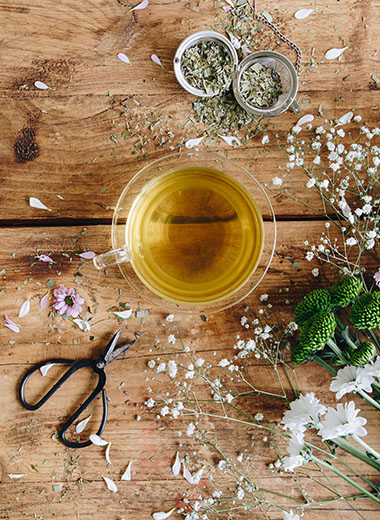 Herbs in a Gourd
Yerba mate takes its name from the Spanish word for herb – "hierba" – and the Quechuan word "mati", meaning "drink" or "gourd". Travelling around South America, you may well be offered a gourd of the legendary brew shared among friends – one sip, and they say you'll be jumping from tree to tree.