Matcha Mango & Moringa Loose Tea
Details
https://www.whittard.co.uk/tea/how-do-you-brew/loose-tea/matcha-mango-moringa-loose-tea-MSTR335067.html
0
Additional Information
Description

If you're a fan of our Moringa Bamboo, this new blend with a coating of lush matcha is not one to miss. We've balanced the distinctive taste of moringa with exotic mango, tangy apple and aromatic sage, adding matcha for a vibrant green tea kick. Fruity and complex with spicy undertones, it's a real cup of paradise – just the thing if you want a daily matcha fix without the fuss of whisks, bowls and ancient ceremonies.

Ingredients

Apple Pieces, Blackberry Leaves, Lemongrass, Nettle Leaves, Sea Buckthorn Peel, 7% Moringa Leaves, Sage Leaves, Flavourings, 3% Mango Pieces, Chamomile Flowers, Cornflowers, 1% Matcha Green Tea

Suitable for vegetarians and vegan

Gluten free

TEA TYPE
Green Tea

TASTE PROFILE
Herbal undertones, mango sweetness, citrus notes

FOOD PAIRING
Chai mango pudding
Numerology
NO.
133
Moringa's also known as the "drumstick tree", thanks to its unusually shaped seed pods. To celebrate this mighty ingredient we've given our Matcha Mango & Moringa the number 133 – the record number of hours spent playing the drums.
Brew the Perfect cup

Teaspoons (2 grams)
2

1 cup
200ml water
100 degrees

time
3-5 mins
Origin: Blended
Ever since our founder Walter Whittard weighed out tea leaves behind his high mahogany counter, we've been experimenting with our own inventive blends. Today you'll find extraordinary creativity in our collection, from unique twists on classics like English Breakfast to more inventive blends laden with fruit and flowers.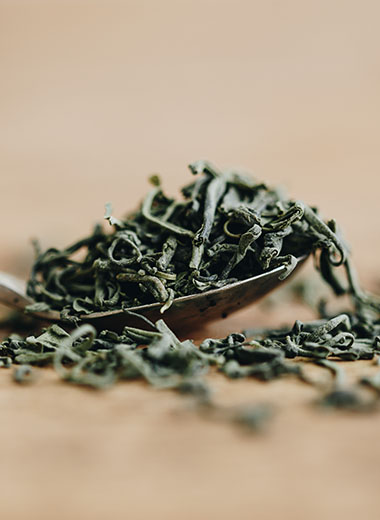 Green Tea Power Powder
When tea was first introduced to Japan, the Chinese custom was to grind the leaves down to a fine powder, then beat them with water to form a smooth, full-bodied tea. It's a custom that survived in Japan as matcha (literally "powder tea"), a finely powdered green tea which is revered not just as a drink but as a way of life.
Green Tea
Green tea's fresh, verdant taste is down to its processing: the leaves are heated shortly after picking, stopping the oxidation process that would eventually turn them into black tea. Some of the best green teas are found in Japan and China, where the techniques of firing or steaming the leaves have been perfected over many centuries. Find out more about green tea here.