Tea Discoveries English Rose 25 Individually Wrapped Teabags
Tea Discoveries English Rose 25 Individually Wrapped Teabags
Details
https://www.whittard.co.uk/gifts/gift-collections/tea-discoveries/tea-discoveries-english-rose-25-individually-wrapped-teabags-332049.html
67
Additional Information
Description

It was during China's Ming Dynasty that tea artisans first experimented with buds and blossoms, imbuing the leaves with essential oils. We've recreated the taste of a classic "Meigui Gongfu" rose tea by using a black tea for the base, imbued with subtle floral flavours.

As part of the beautiful Tea Discoveries range, we've given our individually wrapped English Rose teabags a whole new look, with a pattern inspired by vintage tea dresses. It's a rather stunning addition to any kitchen, and the perfect gift for a tea lover.

Contains: 25 Individually wrapped teabags.

Ingredients

Black Tea, 6% Rose Petals and Buds, Flavouring

Suitable for vegetarians and vegans.

Reviews

Tea Discoveries English Rose Teabags

This tea is amazing. I've never tasted such a unique tea before. I will continue to repurchase this Tea. Please don't stop making it. I feel like it's slightly expensive for 25 tea bags, but equally you cannot purchase this type of luxurious tea in the supermarket. I'm pleased with my purchase, and would highly recommend.

Tea Discoveries English Rose Teabags

I am more than disappointed with this product. English Rose from Whittard is my favorite tea in the world but this just doesn't taste the same as loose tea and I presume the reason is the fact it doesn't really contain rose hips and petals but only flavoring as the packaging is saying. I ordered three boxes but it was just a waste of money.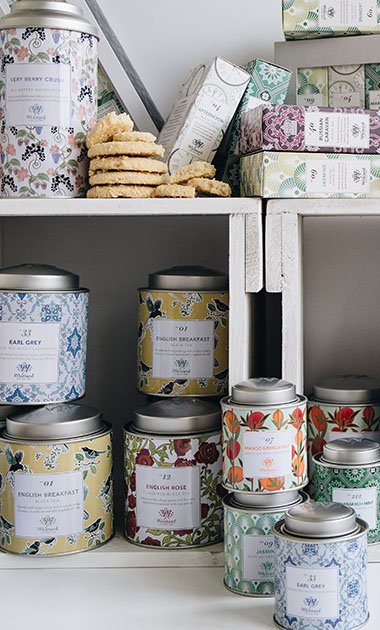 Tea Discoveries
Walter Whittard created his first tea gifts for Edward VII's coronation in 1902. Over a century later, we're still crafting extraordinary gifts to express those feelings that can't be put into words – and our Tea Discoveries range is the perfect example. It stars our most treasured blends, each with its own vintage-style pattern; and we've developed the range with chocolate, infuser sets, and even a selection of tea-infused shortbread.