Margaret's Hope 2021 First Flush Darjeeling Loose Tea
Details
https://www.whittard.co.uk/tea/margarets-hope-2021-first-flush-darjeeling-loose-tea-MSTR352716.html
0
Additional Information
Picture the scene: as the first spring rains spread across the Himalayan foothills, the Darjeeling tea gardens start to turn green in a flush of colour. The earliest harvest of the year is referred to as the "First Flush" and is considered one of the finest teas to be produced worldwide.

TEA TYPE
Black Tea

TASTE PROFILE
Fresh, gently floral and crisp

FOOD PAIRING
Strawberries, apples and apricots. Savoury; soft cheese, eggs and salmon
Numerology
NO.
865
We've given our Margaret's Hope First Flush Darjeeling the number 865, to mark the founding date of the world-famous estate in 1865.
Brew the Perfect cup

Teaspoons (2 grams)
1

1 cup
200ml water
80 degrees

time
2-3 mins
Origin: India
Tea plantations were first introduced to India by the British in the 19th century, after Robert Fortune stole Chinese tea cuttings to plant in the Himalayan region of Darjeeling. Today Indian tea is some of the most famous in the world: it's also home to Assam tea, found growing wild there by the Scottish explorer Robert Bruce.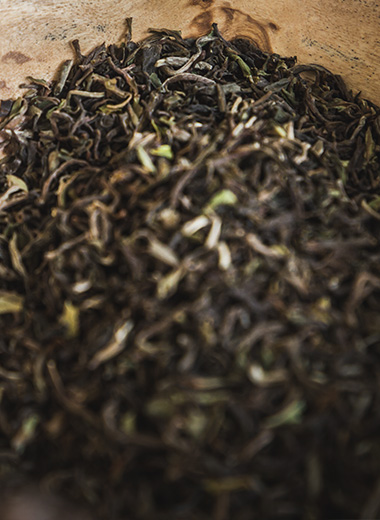 Margaret's Hope Estate
One of the oldest tea gardens in Darjeeling, Margaret's Hope Estate is famed for its sublimely delicate First Flush variety, crafted from the first harvest of the year at the very beginning of spring. read more