Earl Grey Loose Tea
Earl Grey Loose Tea
Details
https://www.whittard.co.uk/tea/tea-type/black-tea/earl-grey-loose-tea-MSTR314583.html
0
Additional Information
Description

Renowned for its wonderful bergamot aroma, Earl Grey tea has become firmly ensconced as an afternoon tea classic. Our take on the quintessential British blend of fine Chinese and Ceylon black tea is perfectly balanced with flavours of citrussy bergamot – we've even added a scattering of blue cornflower petals for an elegant final flourish.

Ingredients

Black Tea, Orange Peel, Bergamot Flavouring, 1% Cornflower Petals.

Suitable for vegetarians and vegans.

Gluten free.

Reviews

By

Ali

from

Glasgow

on

05/19/2019

The cornflower petals add a lovely delicate flavour, seriously one for the earl grey tea drinker. Loose tea makes it easy to blend either light tasting tea or add more loose tea for more depth of flavour.

By

Vanessa L.

from

Michigan

on

05/01/2019

The aroma of this tea is very fragrant and steeps to a perfectly balanced flavor, with just the right amount of bergamot. It's very lovely, especially with a little cream and sugar.

By

Hithfee

from

Lancashire

on

04/16/2019

Makes a superb, fragrant cup of tea. More body than you sometimes get with Earl Grey, which prevents it from being too insipid. My absolute favourite.

By

Daz

from

Norwich, UK

on

10/31/2018

I was surprised at how much I really enjoyed this tea, not normally an Earl Grey drinker. The subtle pleasant enhanced citrus (orange-y) fragrance was lovely Earl Grey with a twist!

By

AllTeaNoShade

from

Glasgow

on

10/22/2018

I was given this today as a sample in store and told about the Top Tasters Programme. I am not generally an Earl Gray drinker however, I was surprised at how much I really enjoyed this. The orange fragrance was lovely and the taste was subtle. A great brew for a cold night. I would definitely buy this

By

Stan

from

Bridgwater

on

10/20/2018

I love earl grey tea and this tea is no exception and didn't fail to impress me

By

P

from

UK

on

10/16/2018

Nice and strong with floral hints, great for afternoon tea

By

Cat

from

Cardiff

on

10/11/2018

First time trying and it's now going to be one of my favs. A great night time drink when you want to get cosy with a book. Subtle citrus taste really enhances the earl grey . 5 stars.

By

Helen

from

Cardiff

on

10/10/2018

A really lovely tea. Floral flavour and extra fun as a loose tea because you get to see the cornflower petals in the mix!

I have tried many different earl greys and I always come back to buy this one. It tastes just like an earl grey should - smooth and citrusy. Best enjyed by brewing loose leaves in a tea pot, drink black.

By

Shelly

from

Hants

on

01/20/2019

This is definitely a favourite. The rich heady smell and slight citrus taste is just perfect.rnLovely anytime of the day but best served when the house is quiet and I can sit back and relax.

By

Ithilrandir

from

Bergen, Norway

on

11/12/2018

Less perfumed smell than a few other Earl Grey teas on the market. Pleasant taste; quite Earl Grey-ish, yet one of the better I've had in a while.

By

alston

from

belfast

on

11/04/2018

The fragrance smells so nice. I love the twist with orange flavours.

Smells like Turkish Delights.
I've yet to try it, as i'm saving it for a special occasion.
It's both a strong & a delicate scent.
I was impressed to find two whole rosebuds on my mini caddy version.

TEA TYPE
Black Tea

TASTE PROFILE
Oriental floral flavours and rounded fruity notes

FOOD PAIRING
Milk chocolate
Numerology
NO.
33
As Prime Minister between 1830 and 1834, the very same Earl Grey presided over the Slavery Abolition Act in 1833. We've numbered this tea 33, to mark the date.
Brew the Perfect cup

Teaspoons (2 grams)
1

1 cup
200ml water
100 degrees

time
2-3 mins
Origin: Blended
Ever since our founder Walter Whittard weighed out tea leaves behind his high mahogany counter, we've been experimenting with our own inventive blends. Today you'll find extraordinary creativity in our collection, from unique twists on classics like English Breakfast to more inventive blends laden with fruit and flowers.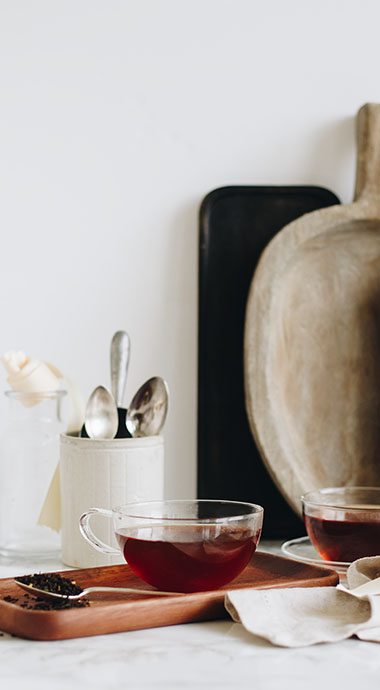 A History of Creativity
The typical taste of a classic Earl Grey might seem to be set in stone, but in fact it's always been open to experimentation. The story goes that Charles Grey, 2nd Earl Grey, was first given the tea when he saved the life of the son of a Chinese Mandarin. When he ran out of supplies he asked for his favourite Chinese tea to be recreated by London tea blenders. The experimentation hasn't stopped since.