Mango and Bergamot Mini Caddy
Mango and Bergamot Mini Caddy
Details
https://www.whittard.co.uk/tea/collections/mini-caddies/mango-and-bergamot-mini-caddy-340406.html
389
Additional Information
Description

This sweet, yet sophisticated green tea is delicately blended with flavours of mango, lulo and bergamot. High quality green sencha tea leaves form the base of the blend, picked in early spring and steamed and rolled to maintain their verdant colour and herby taste. Scattered with rose, sunflower and blue cornflower petals, our aromatic Mango & Bergamot is as beautiful as it is delicious…

40g e 1.4oz

Ingredients

96% Green Tea, Flavouring, Sunflower Petals, Rose Petals, Cornflower Petals

Suitable for vegetarians and vegans

Store in a cool dry place

TEA TYPE
Green Tea

TASTE PROFILE
Luscious mango with elegant bergamot

FOOD PAIRING
Enjoy the sweet flavour alone
Numerology
NO.
7
We've chosen the number 7 for our Mango & Bergamot, the number of different ingredients in this harmonious blend.
Brew the Perfect cup

1 teaspoon (2g)

80 degrees / 200ml water

time
2-3 mins
Origin: China
The origins of tea lie in China: legend has it that it was discovered when a few leaves fell into the mythical emperor Shennong's cup of hot water. Today China produces thousands of different varieties ranging from black and green tea to more unusual teas, like puerh or yellow tea.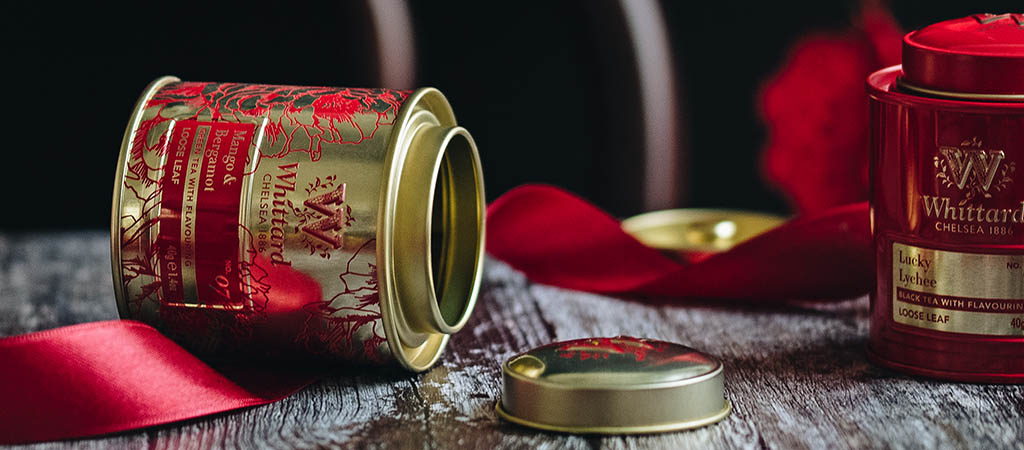 Chinese New Year
We've gone all out for the Spring Festivities, designing a trio of joyous red and gold mini caddies. Choose from delightful "Happy New Year" messaging, fortuitous peonies and a "Year of the Pig" illustration. Can't pick? Well it's a jolly good job we've also created a glorious gift set featuring all three...