Imperial Puerh Loose Tea
Imperial Puerh Loose Tea
Details
https://www.whittard.co.uk/tea/tea-type/puerh/imperial-puerh-loose-tea-MSTR315285.html
0
Additional Information
Description

Our Imperial Puerh is a particularly fine variety from the home of puerh tea, Yunnan Province in China. Unlike many lesser quality puerhs which tend to be heavy and musty, this is a clear-tasting and richly flavoursome tea, substantially full-bodied without a hint of heaviness. You'll find the earthy notes are beautifully balanced by a fresh, clean sweetness, and the result is surprisingly refreshing.

Ingredients

Puerh Tea

Suitable for vegetarians and vegans.

Reviews

I am new to ripe and raw pu erh teas. at first I was unsure if i liked the tea. after a few cups I grew to appreciate the tea.
the wet tea leaves smell earthy, sweet with a hint of agarwood. the taste of the tea is sweet and earthy with hints of clove.
Im sure there are more flavours and notes missing in this review (maybe vanilla leather, moss camphor etc), so please try it and see for yourself.

Often, sweeter teas smell delightful but taste disappointingly bland and watery. Not so here - despite being sugar free, this tea delivers a sweet creaminess that is at the same time, not sickly.

TEA TYPE
Puerh

TASTE PROFILE
Strong and earthy, yet clean and refreshing

FOOD PAIRING
Enjoy with dim sum in the traditional Hong Kong style
Numerology
NO.
30
Aged puerh can fetch staggeringly high prices when sold at auction. Hong Kong's first auction dedicated to tea took place in 2013, with a single cake of puerh going for just over £30,000. Our puerh might not be so pricey, but we've given this tea the number 30 as a mark of its distinguished quality.
Brew the Perfect cup

Teaspoons (2 grams)
1

1 cup
200ml water
100 degrees

time
3-5 mins
Origin: China
The origins of tea lie in China: legend has it that it was discovered when a few leaves fell into the mythical emperor Shennong's cup of hot water. Today China produces thousands of different varieties ranging from black and green tea to more unusual teas, like puerh or yellow tea.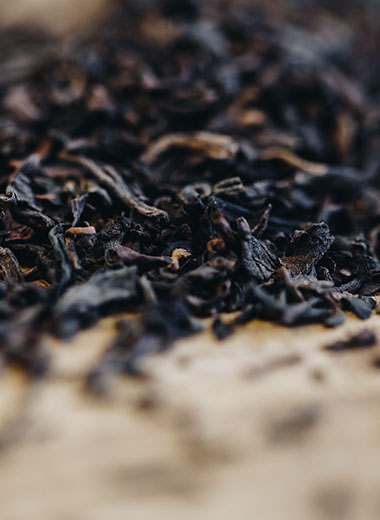 The Only Fermented Tea
Puerh's unique among tea for its processing methods: the leaves are packed into "cakes" and kept in a warm, dark room where they gradually ferment. The final tea has a distinctively earthy flavour that's considered an acquired taste. We think it's definitely one worth acquiring…