White Chocolate Loose Tea
White Chocolate Loose Tea
Details
https://www.whittard.co.uk/tea/how-do-you-brew/loose-tea/white-chocolate-loose-tea-MSTR315267.html
0
Additional Information
Description

To craft our creamiest, dreamiest tea, we've used a base of fine white tea made from the youngest leaves and buds, picked in the Chinese provinces of Yunnan and Fujian during the spring. Left to dry naturally, these delicate leaves have a certain sweetness which blends remarkably well with white chocolate. We've opted for white chocolate made with melting cocoa butter, scattering whole pieces amongst the tea leaves for a truly decadent teatime treat...

Ingredients

White Tea, 15% Cocoa Husk, 10% White Chocolate Pieces (sugar, cocoa butter, whole milk powder, emulsifier: sunflower lecithin), Flavouring

Allergy Advice: For allergens see ingredients in bold. Also not suitable for people with other nut and peanut allergies.

Suitable for vegetarians.

Gluten free

| | |
| --- | --- |
| Nutritional Facts | Per 100g |
| Energy (KJ) | 4 |
| (Kcal) | 1 |
| Fat | 0g |
| of which saturates | 0g |
| Carbohydrates | 0g |
| of which sugars | 0g |
| Protein | 0g |
| Salt | 0g |

Reviews

By

Polyanna

from

NOTTINGHAM

on

07/08/2019

This tea is simply amazing. It is a dessert on itself, but accompaning a cake or biscuits? Just suberb. It is very sweet and chocolatey, so it might not be for everyone. But if you have a sweet tooth and you're looking for a tea to drink after a meal or in the afternoon with puddings: this is the one!

By

Kim

from

Reading

on

06/24/2019

This is really delicious and very different with a definite white chocolate flavour.

By

Neil Peil

from

Birmingham

on

05/01/2019

The blend has a lovely comforting aroma and cloudy appearance. It is sweet, but not too sweet and the addition of white chocolate does not overpower delicate white tea flavours. Highly recommend.

By

Alika

from

Stoke-on-Trent

on

04/23/2019

Recently began taking an interest in white teas, this one definitely tops it as one of my favourites, delicate taste, the hints of white chocolate give it an amazing sweetness, also smells beautiful

By

Hannah

from

Winchester

on

01/19/2019

This tea is so gorgeous and creamy yet with a distinctive sweet chocolate taste I can drink it all the time as an alternative to a bar of chocolate. I would 100% recommend this tea for anyone looking to explore into the white tea type.

Great taste, I can taste the light sweet infusion of white chocolate against the white tea, lovely combination.

By

chloe

from

Bishops stortford

on

05/12/2019

The aroma of this tea is like a cup of warm white chocolate, I like it both with and without sugar, half a teaspoon of sugar did make it very sweet though, beware! I enjoyed this tea when I didn't expect to.

By

Maria

from

DURHAM

on

04/17/2019

As soon as you put the water in it starts smelling amazing! It smells like white chocolate and tastes like it too but just by the right amount. Not overly sweet and very fragrant. Perfect with shortbread biscuits!

By

Vicky

from

Durham

on

06/11/2019

A great scent and overall good experience. Unexpectedly aromatic and very buttery texture. However, the idea of drinking tea that tastes like chocolate? Well, I'd prefer to have a nice cuppa of the real stuff instead!

By

Ltea

from

Nottingham

on

05/22/2019

Lovely and sweet with a comforting aroma. Would've preferred a stronger white chocolate taste but overall a lovely delicate tea.

More white chocolate please !

By

JanP

from

Kent

on

05/14/2019

Delicate smell and flavour but would have liked a stronger taste of the white chocolate!

By

Tea nut

from

Reading

on

05/07/2019

Love the smell of the dry leaves. Although unlike other teas not sure I could drink that much of it as it may get sickly.

Not too sure about the white chocolate

By

Hithfee

from

Lancashirr

on

04/16/2019

You will have to love white chocolate for this one. I found the chocolate flavour slightly too overpowering for the tea.

White Chocolate works better as a Chocolate Bar

By

dezcon

from

Nottingham

on

06/25/2019

I think I was taken in by the inclusion of White Chocolate in the Nottingham Shop which is my favourite flavour. However, this ingredient doesn't work for me in this Tea recipe as it leaves a nasty aftertaste. So definitely not my Cup of Tea but looking forward to the next free sample as I discovered my all-time favourite (Vanilla Sundae) via a free sample sachet.

TEA TYPE
White

TASTE PROFILE
A swirl of cocoa-butter creaminess

FOOD PAIRING
Delicious with the light sweetness of fruit patisserie
Numerology
NO.
930
Although chocolate has been around for centuries, white chocolate only came into existence when Swiss chocolatiers tried out new ways of using cocoa butter – it first hit the shelves in the 1930s, so we've given our White Chocolate tea the number 930…
Brew the Perfect cup

Teaspoons (2 grams)
2

1 cup
200ml water
80 degrees

time
2-3 mins
Origin: China
The origins of tea lie in China: legend has it that it was discovered when a few leaves fell into the mythical emperor Shennong's cup of hot water. Today China produces thousands of different varieties ranging from black and green tea to more unusual teas, like puerh or yellow tea.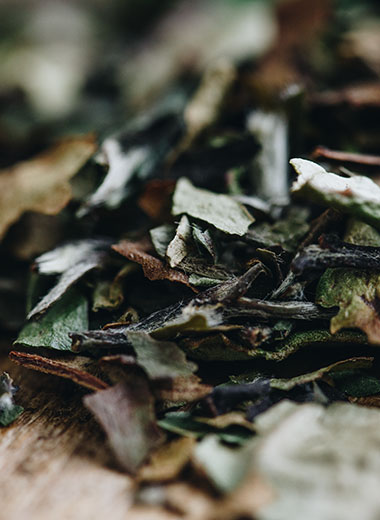 White Tea
White tea's the least processed type of tea: unlike green or black tea, there's no heating or oxidation involved. Instead the freshly picked leaves are simply left to dry in the sun. The result is a sweetly delicate infusion, often singing with complex floral notes.