The Be My Valentine Gift Box
https://www.whittard.co.uk/gifts/the-be-my-valentine-gift-box-HMPVAL2104.html
18
Love can be found in the simplest of places - like a soothing cup of tea. This set combines two favourites: our Dark Chocolate Loose Tea, a blend of black tea from India and Indonesia with a (very) generous helping of cocoa nibs, and our sleek Glass Pao Infuser Mug, ideal for keeping tea toasty.
Product Actions
What's in the box: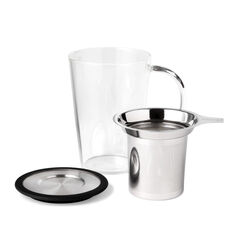 Black Glass Pao Infuser Mug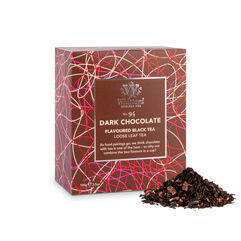 Dark Chocolate Loose Tea Pouch, 100g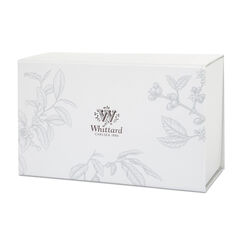 Two Caddy/Three Tub Gift Box
Add a Free Gift Message at Checkout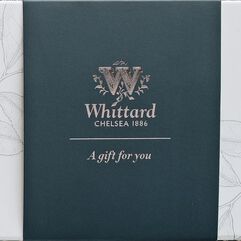 Two Caddy/ Three Tub Gift Box Wrap

TEA TYPE
Black Tea

TASTE PROFILE
Chocolate truffle, smooth and sweet

FOOD PAIRING
All butter shortbread
Numerology
NO.
94
"Mama always said life is like a box of chocolates." That's Tom Hanks speaking perhaps the most famous chocolate quotation of all time – Forrest Gump first hit our screens in 1994, so we've given this tea the number 94.
Brew the Perfect cup

Teaspoons (2 grams)
1

1 cup
200ml water
100 degrees

time
3-5 mins
Origin: Blended
Ever since our founder Walter Whittard weighed out tea leaves behind his high mahogany counter, we've been experimenting with our own inventive blends. Today you'll find extraordinary creativity in our collection, from unique twists on classics like English Breakfast to more inventive blends laden with fruit and flowers.
A Hamperful of Treasures
Our hampers are famous – and it's not hard to see why. From tea caddies to tableware and confectionery, we've packed each one with a cornucopia of gifts. And since each hamper is crafted around a particular theme, you're sure to find one to suit that difficult-to-buy-for friend….