Luxury Hot Chocolate
Luxury Hot Chocolate
Details
https://www.whittard.co.uk/hot-chocolate/discover-hot-chocolate/all-hot-chocolate/luxury-hot-chocolate-304162.html
724
Additional Information
Description

Luxury. It's a word you hear bandied about a lot these days. But what does it take for a taste to be truly luxurious?

Well, we like to think our Luxury Hot Chocolate comes pretty near the mark. With a cashmere smoothness and rich intensity of flavour, its the perfect antidote to austerity.

Some say that luxuries should be treated sparingly. But we're not opposed to a bit of everyday decadence. Add a swirl of cream while you're at it. Go on.

Weight: 350g

Ingredients

Sugar, Cocoa (39%), Dextrose, Salt, Flavouring. Contains Cocoa solids 39% minimum.

Suitable for vegetarians and vegans.

Blended and packed in the UK.
Contents may settle in transit.
Store in a cool dry place.

| | | |
| --- | --- | --- |
| Nutritional Facts | Per 100g | Per 20g as sold |
| Energy (kJ) | 1673 | 335 |
| (Kcal) | 397 | 79 |
| Fat | 8g | 2g |
| of which saturates | 5g | 1g |
| Carbohydrates | 66g | 13g |
| of which sugars | 59g | 12g |
| Protein | 9g | 2g |
| Salt | 0.6g | 0.1g |

Reviews

By

Tea Addict

from

Netherlands

on

04/23/2019

I bought this in London and I'd go all the way back if it meant I'd get to buy this again. (Even though I can just order it online.)

Best hot chocolate I've ever tried

By

Laura

from

Oxford

on

12/12/2018

I've never been that much of a fan of hot chocolate until trying this - it's seriously rich! I like to add 4 teaspoons instead of 3 for a thicker texture.

By

Amelia

from

Bicester

on

12/11/2018

So delicious, and as it's dairy free it's a hot chocolate I can properly enjoy. I make it with soya milk, but my friends love it with ordinary milk too. Really chocolately and a real treat, I'd definitely recommend the Luxury hot chocolate!

This is good hot chocolate -- not too sweet, yet tastes indulgent.

This is one of my all time favourites and must have item in my cupboard. Whether making as a hot chocolate or as a milk shake it's delicious.

Bought it today at Newcastle ,first I've had for years,wow excellent taste not bitter like I remember the last one I tried,will buy more ,

This is the best hot chocolate ever! I've been trying so many lately and this is so delicious.

It is very rich and you do feel the taste of cocoa in it.

I didn't buy the big pot; instead I went for the gift set in which you get three small pots of this one, the white hot chocolate, and the 70% cocoa hot chocolate.

It might be a good idea to have a big pot at home instead of having hot chocolates in the high street cafes. (In the long run it saves you money and it is a much better).

The only negative thing I have to say is, compared to other Whittard hot chocolates, this one lacks a bit of extra factor. But don't get me wrong, it is still very good. :)

Tasted this for the first time at the Milton Keynes Pop Up Bar and immediately went in store to buy some for the kids. It's Absolutely Lush!
Not so keen on the white choc though....so sticking with the classic.

This is lovely instant hot chocolate as the majority of reviews will tell you. The problem I have is the actually container is only three quarters full. This is not just settlement - it is poor money saving practice, and I find it disappointing from WoC. I would appreciate if the containers were smaller to contain the reduced quantity rather than visually be lead to believe I am getting more than I am of this delicious hot chocolate. I brought six different chocolates and all are the same.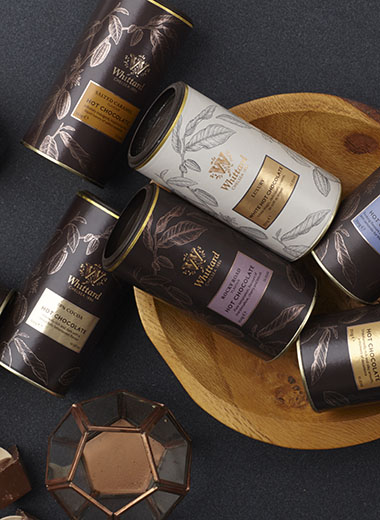 Quality & Character
Hot chocolate has always been close to our hearts. In the 1890s our cocoa was the talk of the town: young Walter Whittard put its success down to "its very high quality and distinctly unique character". You'll find that quality and character are still cornerstones of our collection…