Santos and Java Coffee
Santos and Java Coffee
Details
https://www.whittard.co.uk/coffee/discover-coffee/freshly-ground-coffee/santos-and-java-coffee-111039.html
596
Additional Information
Description

Blending beans from either side of the globe, Brazil and Indonesia, our Santos and Java is a seductively dark, velveteen coffee with a powerful kick.

Ingredients

Roasted Arabica beans.

Reviews

Full of fantastic and intense flavours as you should expect from this dark Brazilian roast. Not bitter but robust and hits home with a wonderful bang!

Purchased the Santos and java coffee for the first time and I'm impressed. Was refered by my local barista about the store and will be back again. Great customer care and full of advise 5* from me

No problems with the coffee: well up to standard, but the packs were inflated to near bursting point with air! Out of interest (and because I'd run out) I applied only a small amount of pressure on the pack and the sealed top came apart.I'm only glad the box had not suffered any crush damage en route.

Body
Full-bodied

Roast
Dark

Tastes Like
Burnt Caramel & Cream
Brew the Perfect cup
When making coffee always use freshly drawn and boiled water – wait a few seconds for the water to cool so you don't scald the grinds. Cardinal rule? Never re-heat brewed coffee! Freshness is everything.
SERVING SUGGESTION
Drink
Mocha
Equipment
Cafetiere
The caramel sweetness of this coffee works perfectly in a mocha: try brewing it in a cafetière, then adding a little cocoa and milk.
Origin: Brazil & Indonesia
Our Santos beans come from Minas Gerais, a region near the Brazilian port of Santos; we've blended them with beans grown on the Ijen Plateau in Java, Indonesia.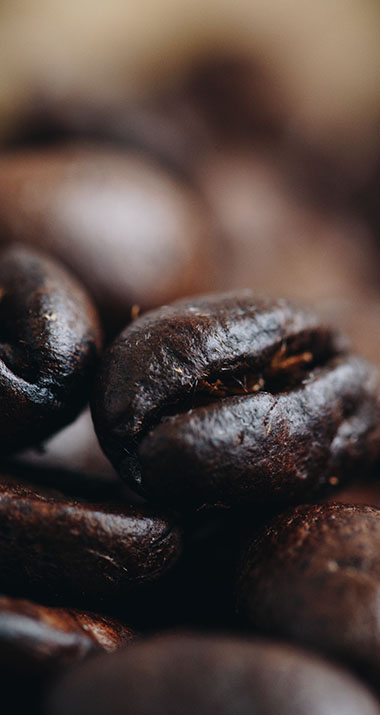 The Perfect Balance
The Santos coffee beans are grown on the rolling plains of Southern Brazil, yielding dark flavours of baking chocolate and stewed fruit, while beans sourced from the humid volcanic slopes of the Ijen Plateau on the island of Java add a lighter, creamier sweetness with just the right acidity. With its heady aroma and high-roasted boldness, we like to think this coffee has something of the mystery of Indonesia, and a touch of the party spirit of Brazil…