Vegan Chocolate Orange Pancakes
Nadia at Nadia's Healthy Kitchen has been experimenting with our Orange Hot Chocolate – and the results are rather delicious...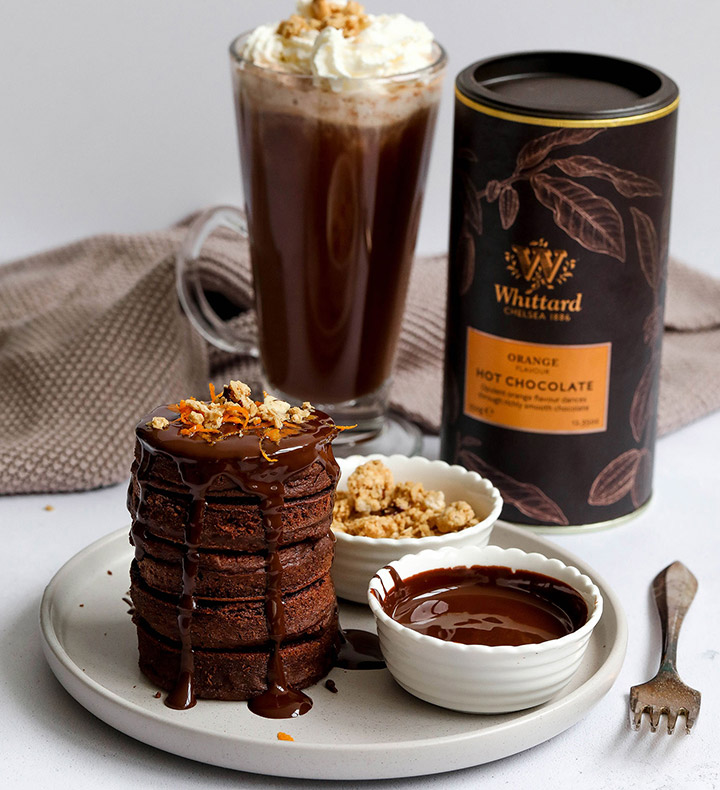 INGREDIENTS (SERVES 2–4)
1 flax egg (1tbsp milled flaxseed and 3tbsp water)
110g oat flour (rolled oats blended into a flour in the food processor. Use gluten-free flour if allergic/intolerant to gluten)
70g Orange Flavour Hot Chocolate powder
1tsp baking powder
&frac14tsp salt
2tbsp oil
180ml milk
METHOD
Prepare the flax egg by mixing the milled flaxseed with the water in a small bowl. Leave to set for 10 minutes.
Mix the oat flour, hot chocolate powder, baking powder and salt in a large bowl.
Pour in the oil, milk and flax egg and stir to combine.
Heat a tablespoon of coconut oil in a frying pan over a medium heat (make sure the pan is hot before you start cooking the pancakes).
Pop a few large spoonfuls of the pancake mix into the pan and cook for about 2–3 minutes, then flip and cook on the other side for a minute or so.
Nifty Tip
Serve with melted dark chocolate if you're feeling particularly indulgent.

Explore Our Other Recipes