Coconut Truffle Loose Tea
Coconut Truffle Loose Tea
Details
https://www.whittard.co.uk/tea/how-do-you-brew/loose-tea/coconut-truffle-loose-tea-MSTR315275.html
0
Additional Information
Description

Blending a base of pure white tea with creamy coconut and cocoa nibs, this white chocolate truffle of a tea should really be classed as confectionery – you'd never guess it has no added sugar.

White tea owes its taste to the careful handling of the young leaves, delicately dried for a light, sweet brew. We've added blackberry leaves to complement the tea's sweetness, while carob, cocoa and coconut create that white chocolate creaminess.

Ingredients

30% White Tea, 27% Coconut, 14% Apple Pieces, 13% Cocoa Kernels, 7% Sweet Blackberry Leaves, 5% Carob Pieces, Flavouring

Suitable for vegetarians and vegans.

Gluten free

Reviews

By

JP

from

USA

on

06/23/2019

I tried this while travelling in Hong Kong and promptly tracked down the manufacturer of this fine tea. The blend is a perfect match of white tea, coconut and cocoa. I can't say enough good things about this tea and have been ordering it regularly since I first tried it. I've since tried other brands versions, they can't compare for the taste and quality of Whittard's.

By

Bo

from

Netherlands

on

06/15/2019

Tried some of this in the store, I didn't think it would be good. Ended up buying it anyway and it is great! Had some teas with coconut before and I hated them. This is perfect, it's coconutty it's chocolatey, I will forever stock up on this tea. Also nice to drink in the evening because there's not much caffeine in it.

By

Anna P

from

Corfu

on

03/28/2019

I love this tea, no doubt this is the best tea I have ever tasted! It's so luxurious, aromatic and smooth that it almost feels naughty drinking it!
I have become a tea addict and I don't think I can ever go back to drinking ordinary tea.
It is highly recommended!

By

Angela

from

UK

on

02/06/2019

Usually, I do not prefer the sweet taste, but this tea is an exception. The sweat is in a nice and fresh sense. I signed up to review for this one. I received this as a free sample, but I will definitely buy it.

By

G Tea

from

Oxford

on

12/13/2018

I received this as a sample last week when I was Christmas shopping. It was such a lovely treat and my first sample of white tea - I would definitely recommend!

By

Loane

from

Oxford

on

11/05/2018

I would never have thought I would like this tea, but it is excellent and a good change from traditional teas.rnI would not recommend letting it infuse for too long as the taste is very strong. When it is infused just right it is a very original flavour, not too sweet so it can go with a large variety of snacks and meals.

By

TeaQueen

from

Norwich

on

11/05/2018

I was given this as a sample having never tried white tea before. But am so glad I tried it as it is delicious! Creamy, coconut sweetness - just like a coconut truffle funnily enough :). All that sweetness with zero sugar, can't be bad.

By

Charlotte

from

London

on

11/03/2018

The smell is amazing.rnI loved this tea with its fruity flavour and the soft coconut taste. Highly recommend.

By

Whizzy

from

Germany

on

11/01/2018

My boyfriend is jealous cause this tea takes one hour of my day - every day! I found out that I eat less sweets since I had fallen in love with this beautiful one here. So I take a break from my day and instead of eating a bar of chocolate, I drink one or two cups of my new beloved friend, enjoy the taste and the time. The taste persists and leaves everything behind. But when I feel very luxury, I take a piece of dark chocolate cake with it and there are no problems on earth but the single one - my tea is empty.

By

HoB

from

South Wales

on

10/31/2018

I made a hot pot with the sample which gave wonderfully clean fruity flavours. I then let the brew to cool down and placed in the fridge, resulting in a refreshing iced tea with quite distinguished flavours.

By

Ziggy S

from

Norwich

on

10/20/2018

I received this as a free sample when purchasing another fruit tea. I loved the soft tones and thought I could detect a vanilla undertone - lovely and refreshing especially at the end of a long day!

When it gets too late for afternoon tea

By

Andrea

from

Reading

on

10/17/2018

This is a great choice if you missed out on afternoon tea, for its delicateness won't disturb your sleep. It is great on its own, especially if you like coconut and chocolate, it can give you almost the same sensation as though you actually had coconut and chocolate. And I am not even a fan of coconut so take my word as the most honest possible.

By

Daz

from

Norwich, UK

on

10/13/2018

A nice light coconut flavoured tea with a hint of white chocolate that makes it creamy.rnOne of my favourite teas.

Absolutely love the taste of this tea. Lovely both hot and cold. Will be buying again.

TEA TYPE
White

TASTE PROFILE
Creamy white chocolate and coconut

FOOD PAIRING
Enjoy with marshmallow as a double sweet treat
Numerology
NO.
44
We've given our Coconut Truffle the number 44, after the hit 1944 music hall song, "I've Got a Lovely Bunch of Coconuts".
Brew the Perfect cup

Teaspoons (2 grams)
2

1 cup
200ml water
80 degrees

time
2-3 mins
Origin: China
The origins of tea lie in China: legend has it that it was discovered when a few leaves fell into the mythical emperor Shennong's cup of hot water. Today China produces thousands of different varieties ranging from black and green tea to more unusual teas, like puerh or yellow tea.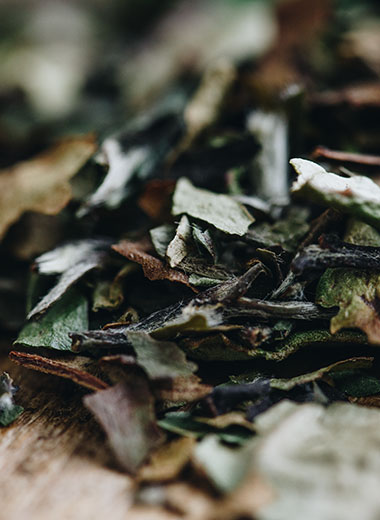 White Tea
White tea's the least processed type of tea: unlike green or black tea, there's no heating or oxidation involved. Instead the freshly picked leaves are simply left to dry in the sun. The result is a sweetly delicate infusion, often singing with complex floral notes.