How to Make Iced Tea
For a refreshingly delicious easy iced tea that packs a flavour punch, look no further…
What's Iced Tea and How Does It Differ to Cold Brew Tea?
Iced tea is brewed in the same way as traditional tea, then cooled over ice. Cold brew tea differs in that there's no exposure to heat; instead time is used to extract the tea's flavours. Fancy experimenting with cold brew tea too? Check out our Cold Brew Tea page.
Step-by-Step Guide to Making Iced Tea
2 teaspoons loose tea
Add 100ml freshly boiled water
Top with ice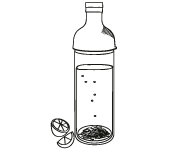 Put in fridge for 2-4 hours.
Add your favourite loose tea/infusion to a cold
brew bottle or jug.
Cover the leaves with freshly boiled water and
brew for 15 minutes.
Top up with freshly drawn (and ideally filtered)
cold water or ice.
Allow the tea to chill in the fridge for 2-4 hours.
Drink your iced tea within 24 hours.
Recipe: Totally Tropical Iced Tea
INGREDIENTS
4 heaped tsp Coconut Truffle Loose Tea
400ml freshly boiled water
1 tbsp sugar
Ice
500ml pineapple juice
100ml coconut water
Pineapple to garnish (optional)
METHOD
Infuse the tea in freshly boiled water for 5 minutes, then strain into a measuring jug.
Stir in the sugar until fully dissolved.
Half-fill a large pitcher with ice.
Pour over the tea mixture, pineapple juice and coconut water and stir.
Serve in chilled glasses, topped with pineapple pieces.
A Note from Our Tea Expert
"I'd recommend using loose tea rather than teabags to make iced tea. Cold dampens the tea's natural flavours, so it's important to create a stronger brew than you would with a traditional cuppa. A lot of people counter this by adding sugar, but I think a longer brewing time can be equally effective. Teabags are specifically designed to brew quickly, so extending the time will make them taste bitter, whereas loose tea is designed to brew more slowly and gently, making it the perfect choice for iced tea."
Linda, Tea Buyer