Kenya Peaberry Coffee
Kenya Peaberry Coffee
Details
https://www.whittard.co.uk/coffee/discover-coffee/freshly-ground-coffee/kenya-peaberry-coffee-110841.html
295
Additional Information
Description

With its wonderful medley of ripe tropical fruits, a tangy acidity and crisp, clean aftertaste, this is the perfect cup to accompany a bright breakfast or a light lunch.

Ingredients

Roasted Arabica beans.

Reviews

By

Echoes

from

Derbyshire

on

06/10/2019

I have been buying this coffee for a number of years and always enjoyed it.

This coffee is lovely, it's the one I have the most, its lighter and smoother but still has a lot of fruity flavours!

I Love the peaberry for it's fruity acidic flavour, bought some and enjoyed most of it then totally it was in the back of the cupboard, I didn't want to throw the remaining grounds away so I mixed them with organic coconut oil and the results was just magic! rub on it the shower,( can get a little messy) and use to exfoliate your whole body, mind you my grounds were quite fine so it wasn't too rough. super refreshing and zero waste! happy days!

My favourite coffee, love the acidity and fruity notes. My go to coffee every morning.

this coffee I love as it has a mild taste which can be drank through out the day and smells and tastes just as good

I'm not a typical coffee drinker however, I found Whittards lighter roasts, especially the Kenya Peaberry, to be a lovely light and slightly fruity flavour.

By

Laura

from

Redworth

on

03/21/2019

I've bought this coffee many times but the latest purchase is absolutely disgusting. I'll be sending it back, the beans and the coffee l've already ground. So, so disappointed

Since my local store closed I've had to resort to ordering on-line. Never been quite the same but this last batch was awful, undrinkable, my local supermarket coffee was better & a fraction of the price.
I complained, Rachel from customer services was brilliant in trying to resolve it, I returned a sample which they tested, but said it looked the same colour, a little darker and that concluded their tests.
So they replaced the coffee, second batch was slightly better but still a problem. Taste is all wrong. I figured it out, been burnt, over-roasted, frazzled! That sweet subtle caramel after-taste has been replaced with charcoal.

Body
Full-bodied

Roast
Light

Tastes Like
Cherry & Grapefruit
Brew the Perfect cup
When making coffee always use freshly drawn and boiled water – wait a few seconds for the water to cool so you don't scald the grinds. Cardinal rule? Never re-heat brewed coffee! Freshness is everything.
SERVING SUGGESTION
Drink
Cold Brew Coffee
Equipment
Cold Brew Bottle
Kenya Peaberry's delicious hot, but if the sun's out why not try it cold brewed for a fruity, refreshing coffee without any bitterness?
Origin: Kenya
Our Kenya Peaberry is grown on the slopes of Mount Kenya, in the central Nyeri region.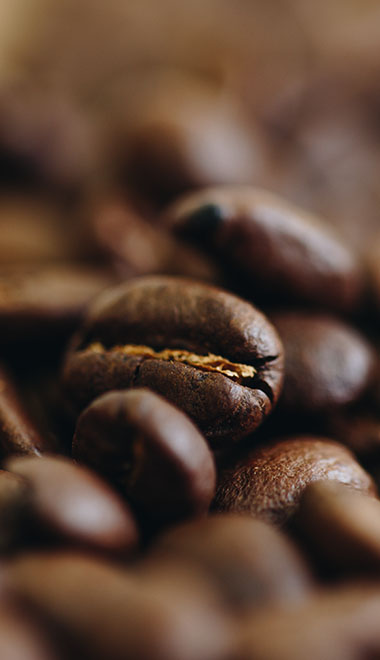 What's a Peaberry?
Our Kenya Peaberry is crafted purely from prized peaberries – a particular type of coffee bean formed when the two seeds of a berry fuse into one.
Many consider peaberries to be more flavourful than regular beans; this single-origin coffee was sorted using a special sieve to separate out the small percentage of peaberries.