Sweet Slumber Large Leaf Teabags
Sweet Slumber Large Leaf Teabags
Details
https://www.whittard.co.uk/tea/sweet-slumber-large-leaf-teabags-334078.html
0
Additional Information
Description

Zzzzz Our Sweet Slumber is the evening companion you've always dreamed about, with a soothingly light flavour to end your day. We've blended lavender with naturally sweet camomile flowers, adding fennel and thyme for aromatic depth, peppermint for a refreshing lightness, and a bouquet of marigold & petals for a little theatre. The result is a beautifully balanced infusion that'll put a smile on even the weariest faces. With larger leaves than normal teabags, our loose leaf pyramids are as full of flavour as loose leaf and as convenient as teabags.

(They're also completely biodegradable no plastic here!)

&

Contains: 15 Loose Leaf Pyramids

Ingredients

30% Peppermint, Lemon Balm Leaves, Sage Leaves, 10% Chamomile Flowers, Fennel, Thyme Leaves, Anise, Valerian Root, 3% Lavender Flowers, Cornflower Petals, Flavouring, Marigold Petals

Suitable for vegetarians and vegans.

Gluten free.

Reviews

Tasty sweet slumber helps me drift off calmly

By

DaisyBrambles

from

Edinburgh

on

10/21/2018

I love love love this tea. I had one or two cups every night before bedtime. It smells amazing even smelling the bag makes me feel relaxed. So tasty flavoursome delicious tea. I love it.

TEA TYPE
Herbal Infusion

TASTE PROFILE
Sweetly herbaceous, relaxingly refreshing

FOOD PAIRING
Enjoy alone
Numerology
NO.
83
"Sweet dreams are made of this…" Eurythmics knew the value of a good night's sleep. Their song "Sweet Dreams (Are Made of This)" hit the charts in 1983, so we've numbered our Sweet Slumber 83.
Brew the Perfect cup

Teabags
1

1 cup
200ml water
100 degrees

time
3-5 mins
Origin: Europe
Several of our fruit and herbal infusions are blended with ingredients sourced from Europe, including citrus fruits, berries and spices.
Our Fruit and Herbal Infusions
None of our fruit and herbal infusions contain the Camellia sinensis plant used to make tea. Instead, we've blended our own combinations of fruit, flowers, herbs and spices to create extraordinary new flavours, from jammy brews like Very Berry Crush to delicate evening infusions like Dreamtime.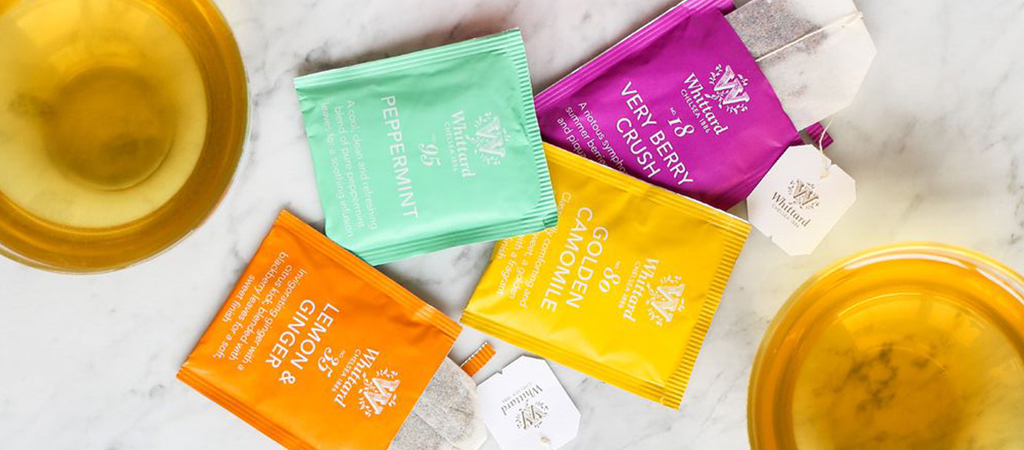 The Wellbeing Range
Our Wellbeing infusions have been specially blended to support a healthy lifestyle – you'll find something for every time of the day in our collection, from Coconut Carnival to Sweet Slumber..