Paradise Blossom Large Leaf Teabags
Paradise Blossom Large Leaf Teabags
Details
https://www.whittard.co.uk/tea/paradise-blossom-large-leaf-teabags-334110.html
18
Additional Information
Description

Welcome to paradise. We've used a vibrant sencha green tea as a base, layering it with sweet apple and pineapple, flavours of jasmine and rose, and a scattering of petals as a finishing touch. The result is a deliciously delicate tea with a bright floral aroma – we love it as a steaming brew with elevenses, or loaded with ice on hot summer days.

With larger leaves than normal teabags, our loose leaf pyramids are as full of flavour as loose leaf and as convenient as teabags. (They're also completely biodegradable – no plastic here!)

Contains: 15 Loose Leaf Pyramids

Ingredients

68% Green Tea, Olive Leaves, Apple Pieces, 8% Pineapple Pieces (pineapple, sugar, acidifier: citric acid), Flavouring, 1% Sunflower Petals, 1% Cornflower Petals

Suitable for vegetarians and vegans.

Gluten free.

TEA TYPE
Green Tea

TASTE PROFILE
Tartly sweet, subtle floral notes

FOOD PAIRING
Spicy Food
Numerology
NO.
563
John Milton wasn't known for drinking green tea, but he did write Paradise Lost – one of the most famous English poems. It took five years to write and was finished in 1663, so we've numbered it 563 in honour of this achievement.
Brew the Perfect cup

Teabags
1

1 cup
200ml water
100 degrees

time
3-5 mins
Origin: China
The origins of tea lie in China: legend has it that it was discovered when a few leaves fell into the mythical emperor Shennong's cup of hot water. Today China produces thousands of different varieties ranging from black and green tea to more unusual teas, like puerh or yellow tea.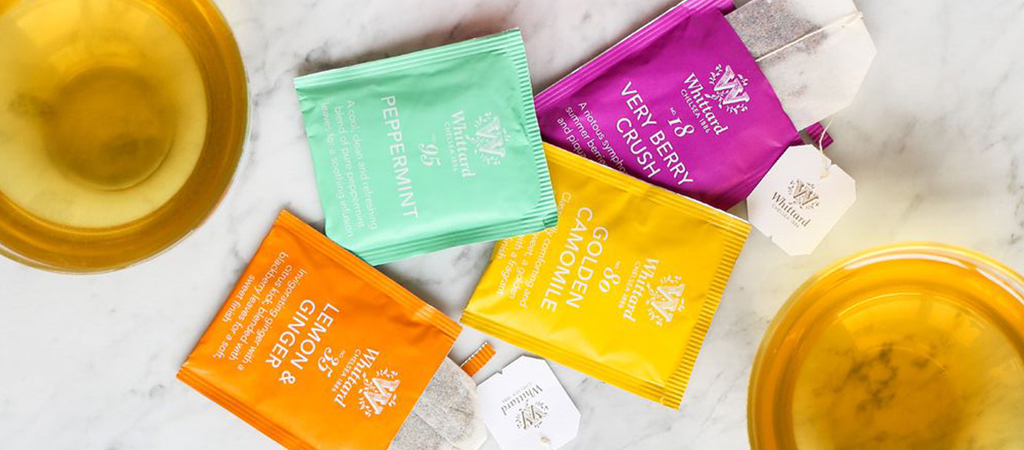 The Wellbeing Range
Our Wellbeing infusions have been specially blended to support a healthy lifestyle – you'll find something for every time of the day in our collection, from Coconut Carnival to Sweet Slumber..