Limited Edition Festive Coffee
Details
https://www.whittard.co.uk/coffee/limited-edition-festive-coffee-336529.html
1995

Body
Full-bodied

Roast
Dark

Tastes Like
Cocoa & Orange
Brew the Perfect cup
When making coffee always use freshly drawn and boiled water – wait a few seconds for the water to cool so you don't scald the grinds. Cardinal rule? Never re-heat brewed coffee! Freshness is everything.
SERVING SUGGESTION
Drink
Mocha
Equipment
Cafetière
Enjoy alone as a filter coffee, or if you're feeling decadent, mix with steaming hot milk and a helping of our Luxury Hot Chocolate to create a festive mocha.
Origin: Colombia & Brazil
The mountains around Bucaramanga in northern Colombia are known for producing rich, citrussy coffees, with a flavour profile deepened by notes of caramel and nuts. We've blended beans harvested during the region's main crop with chocolatey, creamy Brazilian beans, grown in the world-renowned region of Minas Gerais.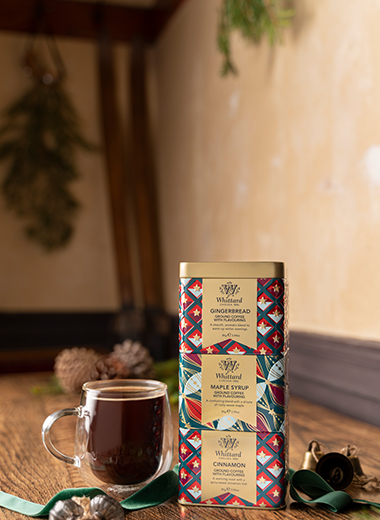 Prime Location
Some of the finest Colombian and Brazilian coffee beans are sourced from the Bucaramanga and Minas Gerais regions, and for good reason. Both boast lush landscapes with ideal rainfall and rich fertile soil – and Minas Gerais has some of the highest mountains in Brazil. The finished product is quite impressive indeed: a flavoursome, full-bodied brew.
Discover two magnificent coffee gifts joining our annual festive favourites: Flavoured Coffee Stacking Tin and Festive Coffee Tin