Peanut Butter Flavour Hot Chocolate
Peanut Butter Flavour Hot Chocolate
Details
https://www.whittard.co.uk/hot-chocolate/discover-hot-chocolate/all-hot-chocolate/peanut-butter-flavour-hot-chocolate-324327.html
182
Additional Information
Description

Who was the bright spark who first invented peanut butter jam sandwiches? We're not sure, but we think we might just have beaten them to the best peanut butter combination ever. Peanut butter hot chocolate. You heard it here first.

Simple as it sounds, we've found this hot chocolate is particularly amazing with digestive biscuits and melting marshmallows. It's also the secret to our peanut butter chocolate cheesecake.

Weight: 350g

Ingredients

Sugar, Cocoa (39%), Dextrose, Flavouring, Salt. Contains cocoa solids 39% minimum. Made without nuts.

Suitable for vegetarians and vegans
Blended and packed in the UK.
Contents may settle in transit.
Store in a cool dry place.

| | | |
| --- | --- | --- |
| Nutritional Facts | Per 100g | Per 20g as sold |
| Energy (kJ) | 1649 | 330 |
| (Kcal) | 392 | 78 |
| Fat | 8g | 2g |
| of which saturates | 5g | 1g |
| Carbohydrates | 66g | 13g |
| of which sugars | 60g | 12g |
| Protein | 8g | 2g |
| Salt | 0.5g | 0.1g |

Reviews

The best combination of all time

By

Amario

from

Leeds

on

09/20/2018

It's a bold statement to say that chocolate and peanut butter is the best combination of all time, but this absolutely heavenly concoction of sweet and salty goodness is hands down the best hot chocolate I have ever had. Move over Rocky Road, there is a new hottie in town.

By

louisj92

from

Bristol UK

on

07/01/2019

Another great taste, with the delightful Whitards chocolate base, but yet peanut coming through to make it even better. I do think this one could have been a bit more nutty and it can feel a bit oily in the mouth (the butter part I guess). That said, it won't stop me having it again.

By

Julie

from

Australia

on

05/13/2019

Loved this hot chocolate! It was rich and chocolatey but you could really taste the peanut buttery undertones as well. Will definitely purchase this one again!

By

Ben

from

Essex

on

04/08/2019

I was drawn in by the name of the flavour and had high expectations, but alas the flavour was a huge letdown. Im sticking with the basic hot chocolate.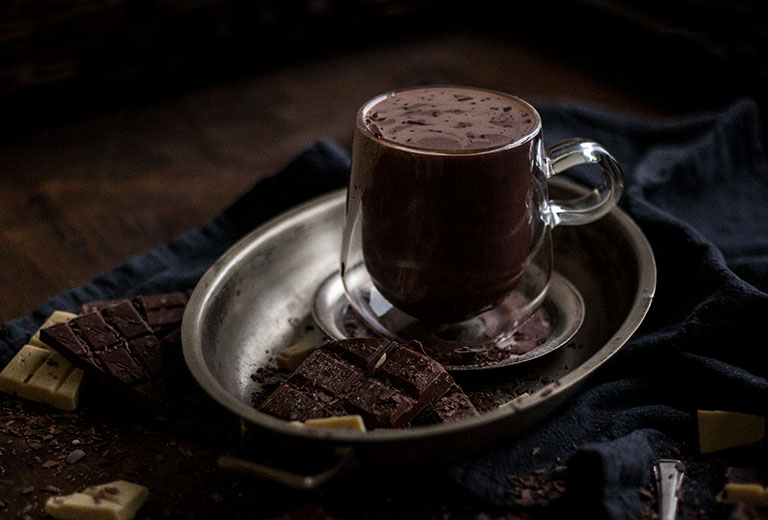 Recipe: Peanut Butter Hot Chocolate Cheesecake
Ingredients
250g digestive biscuits
115g melted butter
250g mascarpone cheese
400g milk chocolate
300ml double cream
11tbsp Peanut Butter Flavour Hot Chocolate
Method
Crush the digestive biscuits and add to the melted butter.
Add 3 tablespoons of the hot chocolate mix to the crushed biscuits, and put into the base of a cake tin. Leave in the fridge to cool.
Melt the chocolate and stir in the rest of the hot chocolate, then leave to cool for 15 minutes.
Whip the double cream until it holds its shape. This is a good way to show off your biceps.
Once the chocolate mixture has cooled, combine it with the mascarpone cheese.
Fold in the whipped cream. Spoon the whole mixture into the cake tin on top of the biscuit base, and chill your delicious cheesecake in the fridge.
When the cheesecake is firm, cut yourself a generous slice and tuck in. You could share – but we won't judge you if you don't.