Grapefruit Yerba Mate Loose Tea
Details
https://www.whittard.co.uk/tea/how-do-you-brew/loose-tea/grapefruit-yerba-mate-loose-tea-MSTR315457.html
0
Additional Information
| | |
| --- | --- |
| | Personalise your gift for free with a message at checkout. |
Description

The craze for Yerba Mate is taking the tea world by storm. Originally enjoyed as a powerful stimulant by Amazonian tribes, herbal yerba mate is unusually high in caffeine with a taste you might compare to a smoky gunpowder green tea. We've created a unique yerba mate blend with refreshing peppermint, luxuriant lemon balm and juicy grapefruit to get you buzzing over breakfast.

Ingredients

Peppermint, Lemon Balm, Rosehip Seed, Lemongrass, 12% Green Mate, Nettle Leaves, Grapefruit Flavouring, 2% Grapefruit Peel

Suitable for vegetarians and vegans.

Gluten free

TEA TYPE
Herbal Infusion

TASTE PROFILE
Strong, fruity and refreshing

FOOD PAIRING
Simple fruit muesli will match well – and waken you up
Numerology
NO.
595
We've given our Grapefruit Yerba Mate the number 595, the dial code for Paraguay where the plant was first classified by a Swiss botanist in 1895.
Brew the Perfect cup

Teaspoons (2 grams)
2

1 cup
200ml water
100 degrees

time
3-5 mins
Origin: South America
The herbal yerba mate plant is native to South America, where it was first brewed and served as a stimulant by indigenous tribes. You'll find it's particularly popular in the central and southern parts of the continent, where it's a social drink served as a stimulant and sipped from gourds.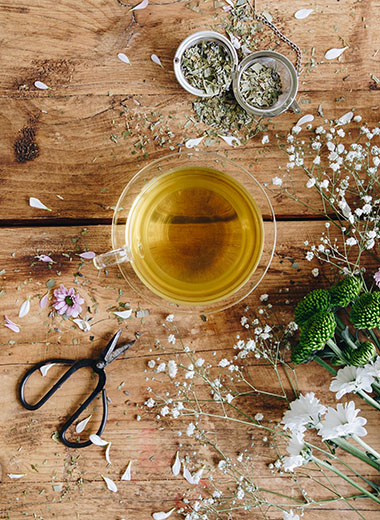 Herbs in a Gourd
Yerba mate takes its name from the Spanish word for herb – "hierba" – and the Quechuan word "mati", meaning "drink" or "gourd". Travelling around South America, you may well be offered a gourd of the legendary brew shared among friends – one sip, and they say you'll be jumping from tree to tree.