Orange Gingerbread Loose Tea
Details
https://www.whittard.co.uk/tea/how-do-you-brew/loose-tea/orange-gingerbread-loose-tea-MSTR340331.html
0
Additional Information
| | |
| --- | --- |
| | Personalise your gift for free with a message at checkout. |
Description

We've whipped up a scrumptious infusion to sink your teeth into, blending whole pumpkin and apple pieces with ginger, cinnamon and a flourish of orange peel, and finishing it off with a scattering of sweet nuts. It's everything we love about gingerbread – just don't try building a house with it…

Weight: 100g

Ingredients

23% Ginger, 15% Cinnamon, 15% Pumpkin, 15% Apple, 8% Brittle Pieces (sugar, hazelnut, invert sugar), Sweet Blackberry Leaves, Liquorice Root, 4% Orange Peel. 2% Almond, Sunflower Petals, Flavouring

Suitable for vegans and vegetarians.

Gluten free

ALLERGY ADVICE: For allergens see ingredients in bold. Also not suitable for people with other nut and peanut allergies. Contains liquorice - people suffering from hypertension should avoid excessive consumption

TEA TYPE
Flavoured fruit and Herbal Infusion

TASTE PROFILE
Warming citrus and spices

FOOD PAIRING
Enjoy alone
Numerology
NO.
793
Looking for the "Home of Gingerbread"? Market Drayton in Shropshire lays proud claim to that title: they were first recorded baking the spicy treat in 1793.
Brew the Perfect cup

Teaspoons (2 grams)
2

1 cup
200ml water
100 degrees

time
3-5 mins
Origin: Blended
Ever since our founder Walter Whittard weighed out tea leaves behind his high mahogany counter, we've been experimenting with our own inventive blends. Today you'll find extraordinary creativity in our collection, from unique twists on classics like English Breakfast to more inventive blends laden with fruit and flowers.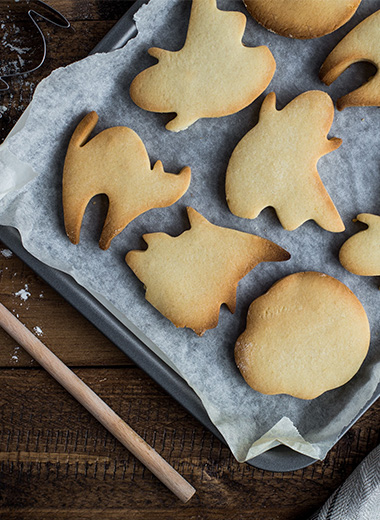 Recipe: Orange Gingerbread Shortbread
Hosting a Halloween party? Treat guests and ghouls to these fang-tastic shortbread biscuits conjured up by Digital Marketing Executive – and star baker – Amelia. (NB Spooky-themed cutters essential!)
INGREDIENTS
325g plain flour
225g butter
100g caster sugar
Zest of 1 orange
Juice of ½ an orange
1tsp Orange Gingerbread infusion
½tsp ground cinnamon
½tsp ground ginger
Extra butter for greasing
25g sugar for dusting (optional)
METHOD
Preheat oven to 160°C/140°C fan/gas mark 3 and line a baking tray with greaseproof paper or lightly grease it.
Mix the flour, butter, sugar, Orange Gingerbread infusion, spices, zest and orange juice in a bowl using your hands until the mixture starts to stick together.
Knead to form a dough – the heat of your hands should be enough to bind it together, but a splash of water or a little extra juice of the orange can be added if needed.
Chill the dough for 30 minutes.
Roll out the dough to about 5mm thick on a well-floured surface – sprinkle your rolling pin and cutters with flour too.
Cut out the shapes and place them on the baking tray. Bake for 30 minutes or until pale golden brown.
Leave to cool for a few minutes before transferring to a cooling rack.
Sprinkle with sugar to finish and decorate to your heart's content...