White Peony Loose Tea
White Peony Loose Tea
Details
https://www.whittard.co.uk/tea/how-do-you-brew/loose-tea/white-peony-loose-tea-MSTR314674.html
0
Additional Information
Description

Known for its subtly sweet and refreshing taste, white tea is made from the youngest two leaves and a bud from each bush and experiences very little processing: the leaves are simply dried in the sun, or inside to control temperature and humidity. Our signature White Peony or "Bai Mu Tan" tea was first created in Fujian Province in 1922: the downy leaves are harvested at the very start of spring, and lightly dried to stop the process of oxidation. Unlike black or green teas, there's no twisting, rolling or even steaming – the leaves are barely touched, to maintain that exquisite delicacy of taste and floral sweetness.

Ingredients

White Tea.

Suitable for vegetarians and vegans.

Gluten free.

Reviews

White tea with peony is my regular beverage at home during the day. It's my first drink of the day and is a perfect way to wake up. It has a light, slightly aromatic flavour which needs to be nurtured with the correct water temperature. It really is worth the effort.

TEA TYPE
White

TASTE PROFILE
Sublimely delicate, with the sweetness of a ripe cantaloupe melon

FOOD PAIRING
Something light so as not to overpower the tea
Numerology
NO.
3
We've given our White Peony tea the number 3 – that's the number of parts in the picking of the leaf, the youngest two leaves and a bud from each bush.
Brew the Perfect cup

Teaspoons (2 grams)
2

1 cup
200ml water
80 degrees

time
2-3 mins
Origin: China
The origins of tea lie in China: legend has it that it was discovered when a few leaves fell into the mythical emperor Shennong's cup of hot water. Today China produces thousands of different varieties ranging from black and green tea to more unusual teas, like puerh or yellow tea.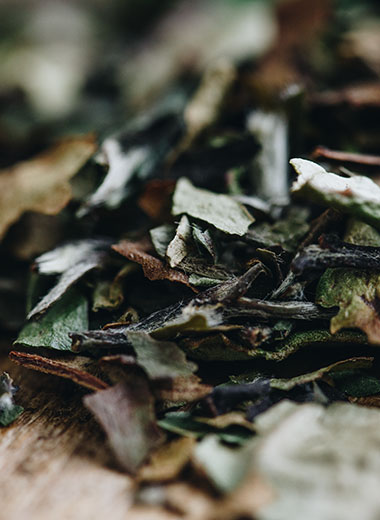 White Tea
White tea's the least processed type of tea: unlike green or black tea, there's no heating or oxidation involved. Instead the freshly picked leaves are simply left to dry in the sun. The result is a sweetly delicate infusion, often singing with complex floral notes.