Winter Chai Loose Tea
Details
https://www.whittard.co.uk/tea/winter-chai-loose-tea-MSTR343574.html
0
Additional Information
| | |
| --- | --- |
| | Personalise your gift for free with a message at checkout. |
Description

A Whittard twist on a traditional chai, our Winter Chai has caused quite the stir in the office – it might've even converted some of the black tea enthusiasts among us. We've opted for a delicate, creamy oolong base and layered it with sugar and spice, and all things nice. Crunchy cocoa kernels and smooth white cocoa butter meet the bite of warming ginger and cinnamon, topped off with a sweet sprinkle of pink peppercorns. It's the perfect companion for a long, frosty wintery walk.

100g e 3.5oz

Ingredients

Flavoured Oolong Tea, Cocoa Kernels, Ginger, White Cocoa Butter Pieces, (sugar, cocoa butter, milk powder, dextrose), Cinnamon, Pink Pepper, Chilli Pods, Flavouing, Stevia Leaves

For allergens see ingredients in bold Also not suitable for people with nut and peanut allergy

Suitable for vegetarians, not suitable for vegans

Store in a cool dry place

TEA TYPE
Oolong Tea

TASTE PROFILE
Warming spices compliment the creamy oolong base, cacao nibs and indulgent white cacao butter.

FOOD PAIRING
Stewed winter berries such as cranberries, lingonberries, blackcurrants and redcurrants - as they are or with a dash or brandy and cinnamon.
Numerology
NO.
419
The winter solstice is predicted to take place at 4.19am on 22nd December 2019 – as 2019 marks the launch of our Winter Chai, it seemed rather fitting to number it 419.
Brew the Perfect cup

Teaspoons (2 grams)
1

1 cup
200ml water
100 degrees

time
3-5 mins
Origin: Blended
Ever since our founder Walter Whittard weighed out tea leaves behind his high mahogany counter, we've been experimenting with our own inventive blends. Today you'll find extraordinary creativity in our collection, from unique twists on classics like English Breakfast to more inventive blends laden with fruit and flowers.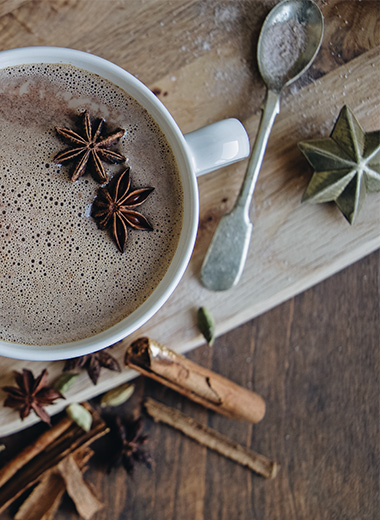 Chai Tea
Masala Chai – Hindi for "spiced tea" – has long been served by chaiwalas as a traditional Indian street drink. Tea was only later added during the British Raj, but the essential blend of spices and hot milk remained the same.