Elderflower Earl Grey Loose Tea
Details
https://www.whittard.co.uk/tea/tea-type/black-tea/elderflower-earl-grey-loose-tea-MSTR314591.html
0
Additional Information
Inspired by elderflower cordial sipped at the height of summer, we've blended a bright, crisp loose leaf Ceylon black tea with hedgerow elderberries and their delicate flowers, and flavours of bergamot.



TEA TYPE
Black Tea

TASTE PROFILE
Sweetly fruity, with a hint of bergamot

FOOD PAIRING
Try with cucumber sandwiches and afternoon tea
Numerology
NO.
216
Our Elderflower Earl Grey is the ideal tea to celebrate Midsummer's Day. To mark the 21st day of the 6th month, we've numbered this tea 216. Let the revels begin…
Brew the Perfect cup

Teaspoons (2 grams)
1

1 cup
200ml water
100 degrees

time
3-5 mins
Origin: Sri Lanka
Coffee plantations were originally Sri Lanka's main economic resource, and it wasn't until the 1870s that a sudden blight devastated the coffee plantations and allowed tea to take centre stage. Today, "Ceylon" tea – known by the country's former colonial name – is famed for its clean, brisk taste.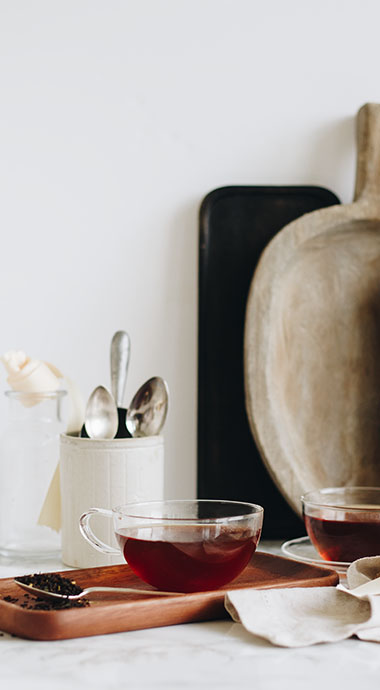 A History of Creativity
The typical taste of a classic Earl Grey might seem to be set in stone, but in fact it's always been open to experimentation. The story goes that Charles Grey, 2nd Earl Grey, was first given the tea when he saved the life of the son of a Chinese Mandarin. When he ran out of supplies he asked for his favourite Chinese tea to be recreated by London tea blenders. The experimentation hasn't stopped since.